Wow. When I first learned how to machine quilt several years ago, it was because I knew I couldn't make as many quilts that I wanted to with just hand quilting. I had so many ideas, so many designs. Machine quilting made quilting faster.
But then I got greedy? I figured I could get even more quilts done if I had a longarm, so two years ago, I bought my first, a Q'Nique 15pro. I upgraded to a 21 pro earlier this year. I made 60 quilts in total this year – if I'm not forgetting any:
35 were simple lap quilts for donations
6 were commissions
4 were wall hangings, which I call Whimsy Quilts
3 were wall hangings for fun
The rest were quilts for me, friends or family.
Quilting isn't a race
It may be surprising to read, but I was actually embarrassed about sharing that I made 60 quilts. I don't want anyone to ever feel bad that they made one, or are still working on one they started years before. And I know it was only possible because of my longarm machine. I don't have young children who demand my attention. I don't have teens who need driving around. I work from home (did so for long before the pandemic). In other words, I have the time to work on my quilting projects pretty well whenever I need to.
And maybe I was channeling the fact that I turned 60 this year! Who knows?
Some people take a year – or longer – to complete a quilt. That's the way it was for me 30 years ago. But, as I said, I just have so many ideas, so being able to make these fast is really a bonus for me.
My Special Quilt
Last year at this time, I was making this special Half Square Triangle Trip Around the World quilt for me. It's on my bed and I appreciate it each and every day. And then I wondered how many quilts I made over the year. The number is bumped up much higher than usual because of the 35 donation quilts I made this year. I never make 35 lap quilts so fast usually. I also did some quilting for friends, six or seven quilts, I believe. I didn't count those in this number because I didn't make the quilts.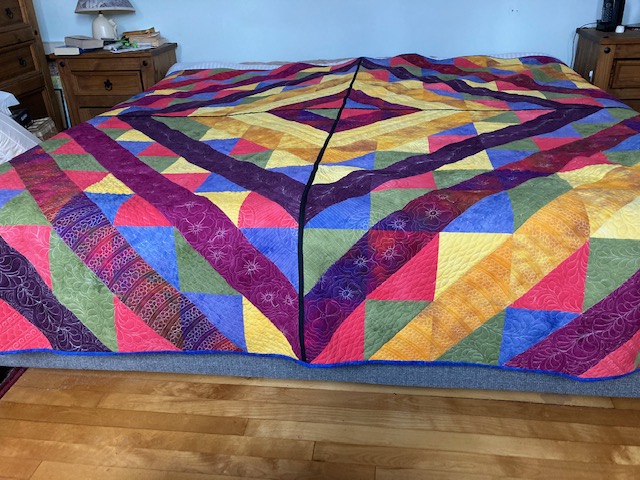 My 2021 quilt round-up:
Many of the descriptions have a link – those links go to a blog post about that particular quilt.
In January, I finished hand quilting this beautiful quilt. I try to always have a hand quilting project around. When I watch TV or a movie, I feel antsy, that I should be doing something, and hand quilting fits that purpose. This pattern is William and May Sampler Quilt, by Michele Hill. (Before you bombard me with messages like when I posted this on Facebook when it was finished, that is not a typo – it is "May.")
I also made this travel tote at the end of the month. I was being optimistic. Sigh.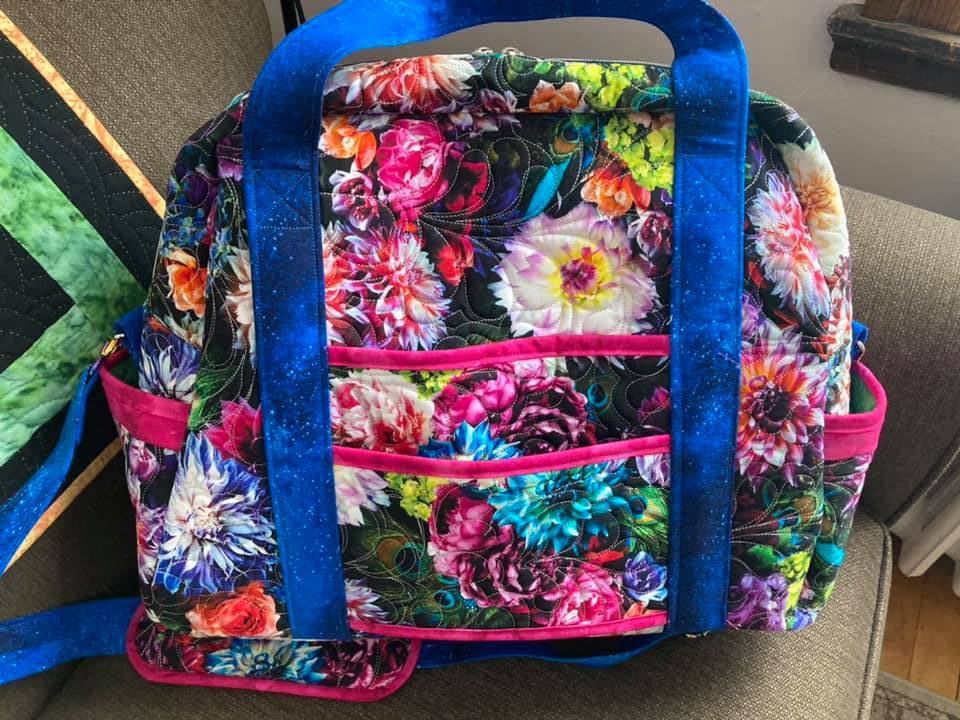 In February, I participated in a Zoom workshop with my guild to make blocks for a Quilt of Valour. I ended up making enough blocks to make my own quilt top, and then quilted it a bit later.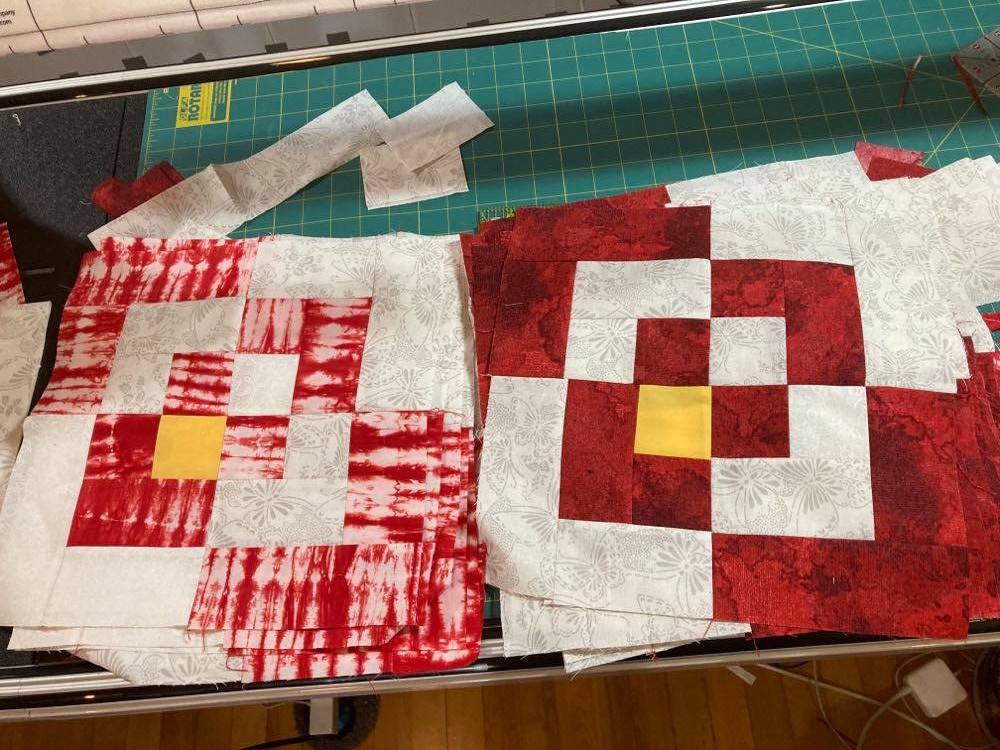 February saw me work on this colourful sampler. It really is lovely and will make a pretty wall hanging at some point.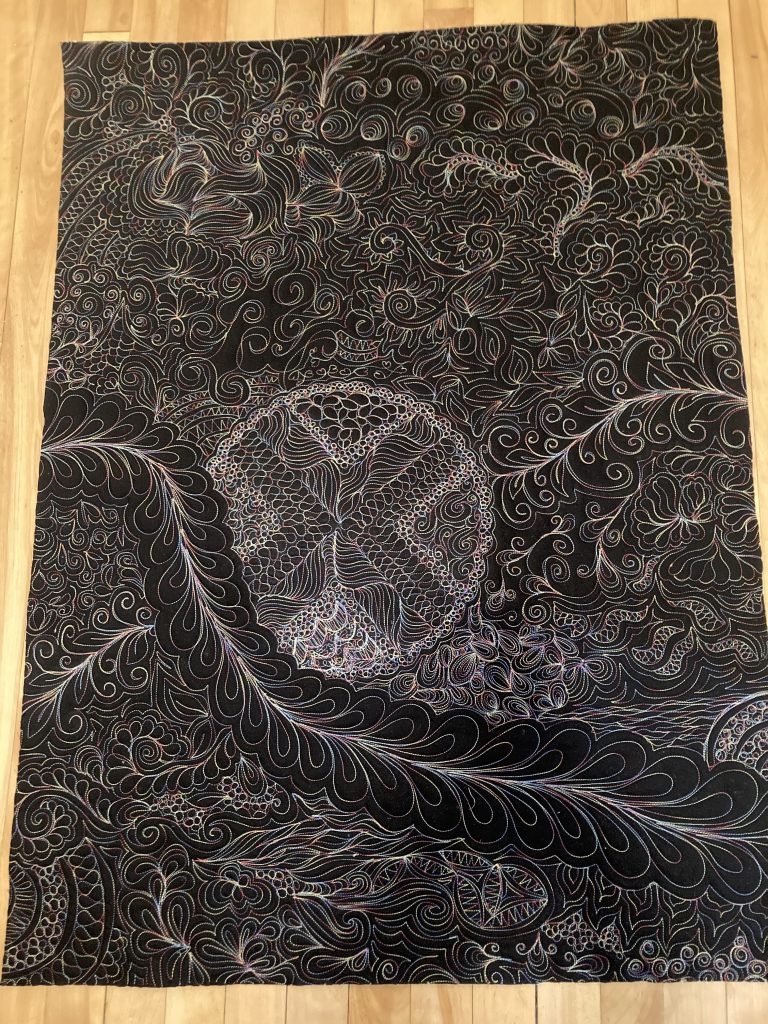 In March, I created this quilt for a friend who runs a not-for-profit organization to help seniors who are in difficulty. She was going to raffle or auction it off. I chose the flying geese in both the pattern and the quilting to symbolize freedom.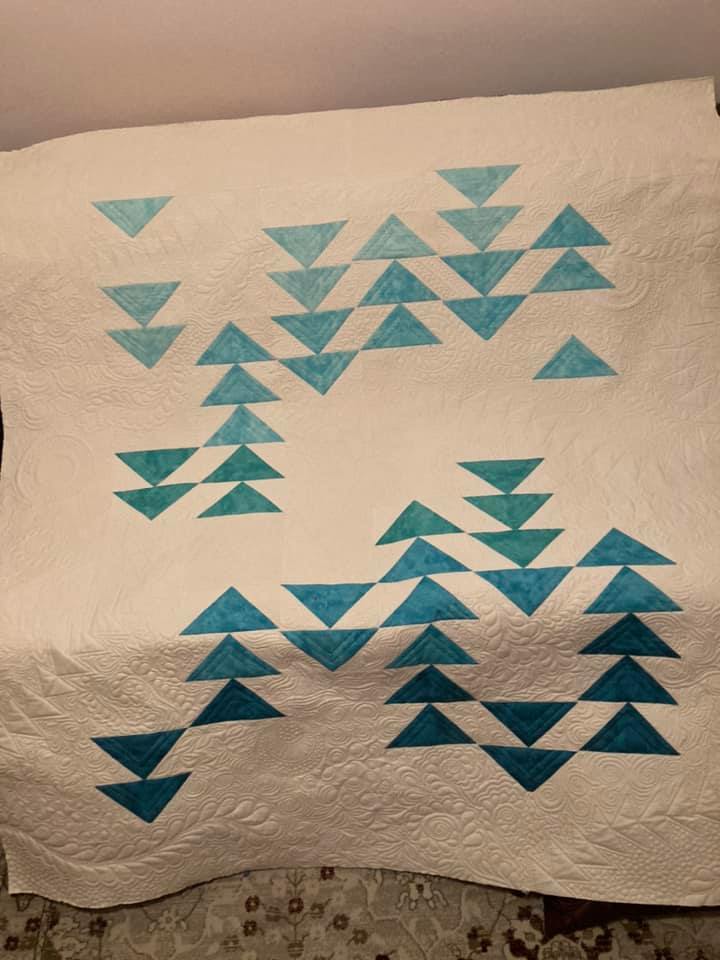 I began this Block of the Month pattern in March as well; it's called Colour Your World, but I haven't gotten very far with it. It's a lovely pattern; I just have to get back to it at some point.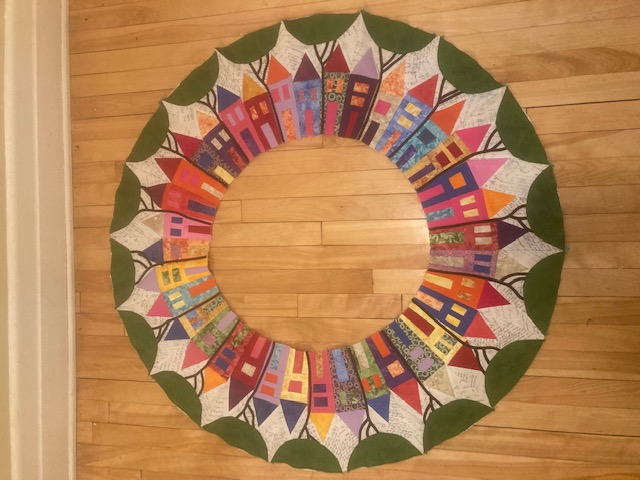 At the end of the month, I made four memory quilts and several cushions for a local woman.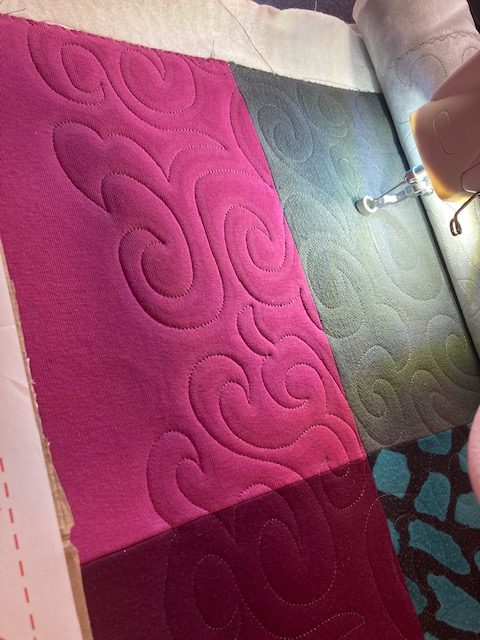 In May, I took on a challenge from a friend, to use the top and bottom of an old beloved single bed quilt and make it into a larger quilt she could use without fear of ruining it: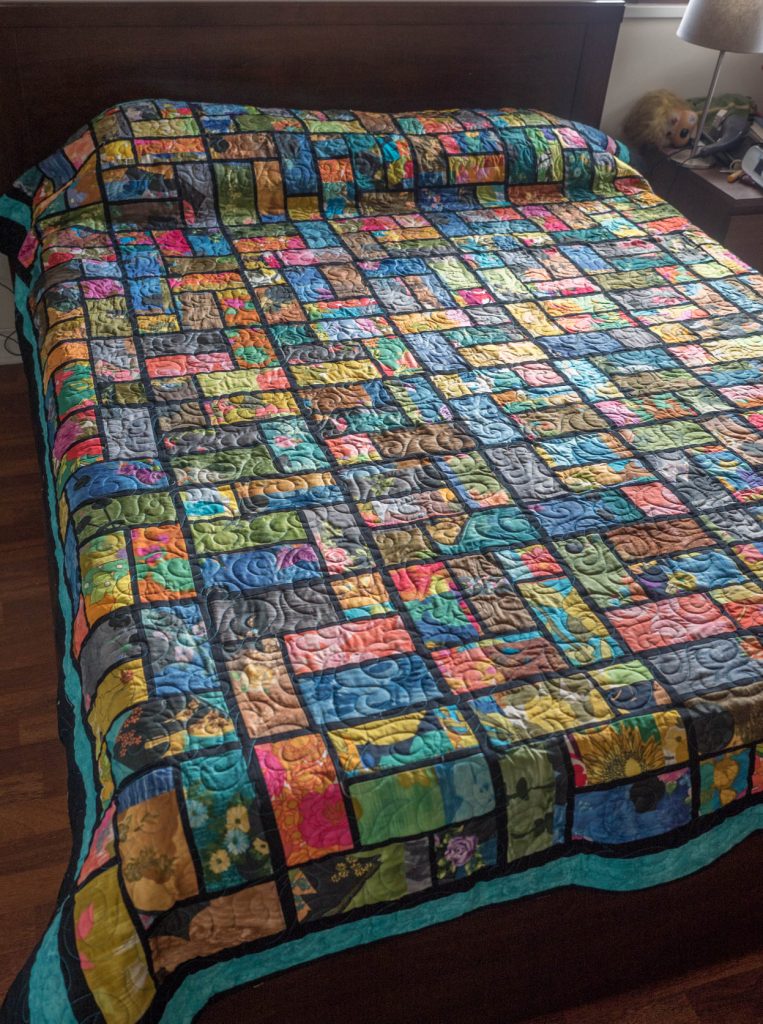 Towards the end of the month, I completed this lovely Dutch treat, called Little Amsterdam: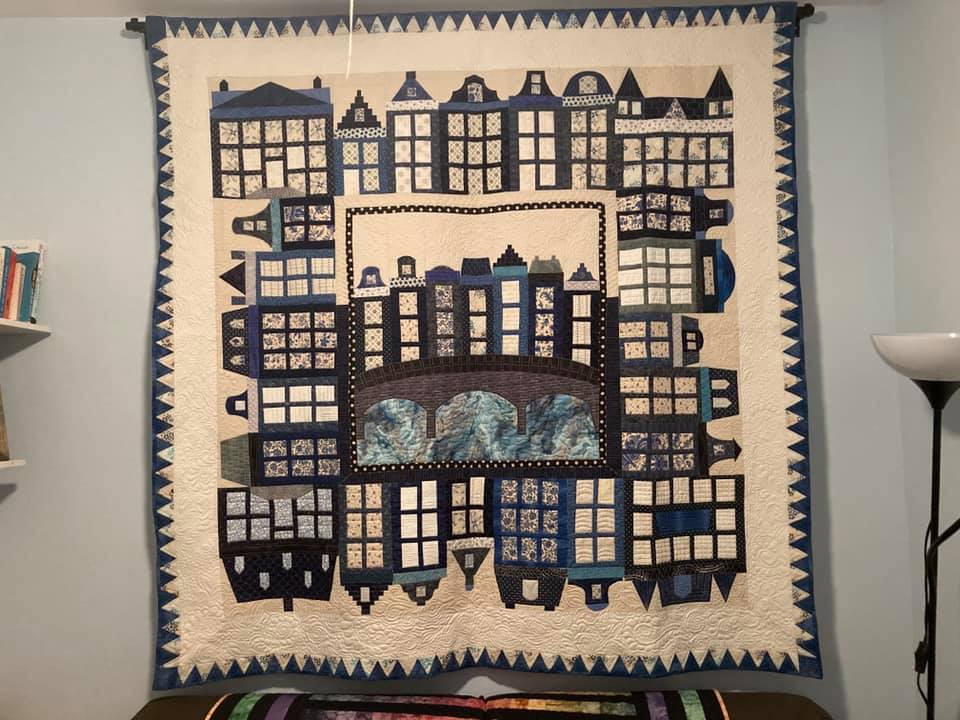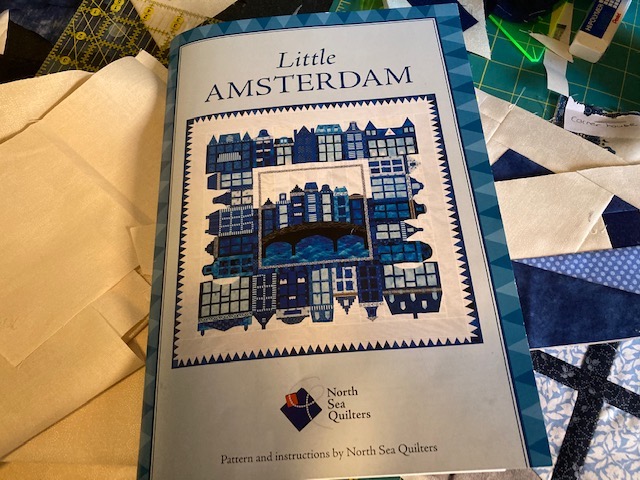 This is when I also started making the donation quilts for Bread and Beyond, a local organization that puts together Essential Boxes for people who are leaving homelessness. I aimed to give 6 quilts for 60 by my birthday at the end of the month. (There are only five in the photos.)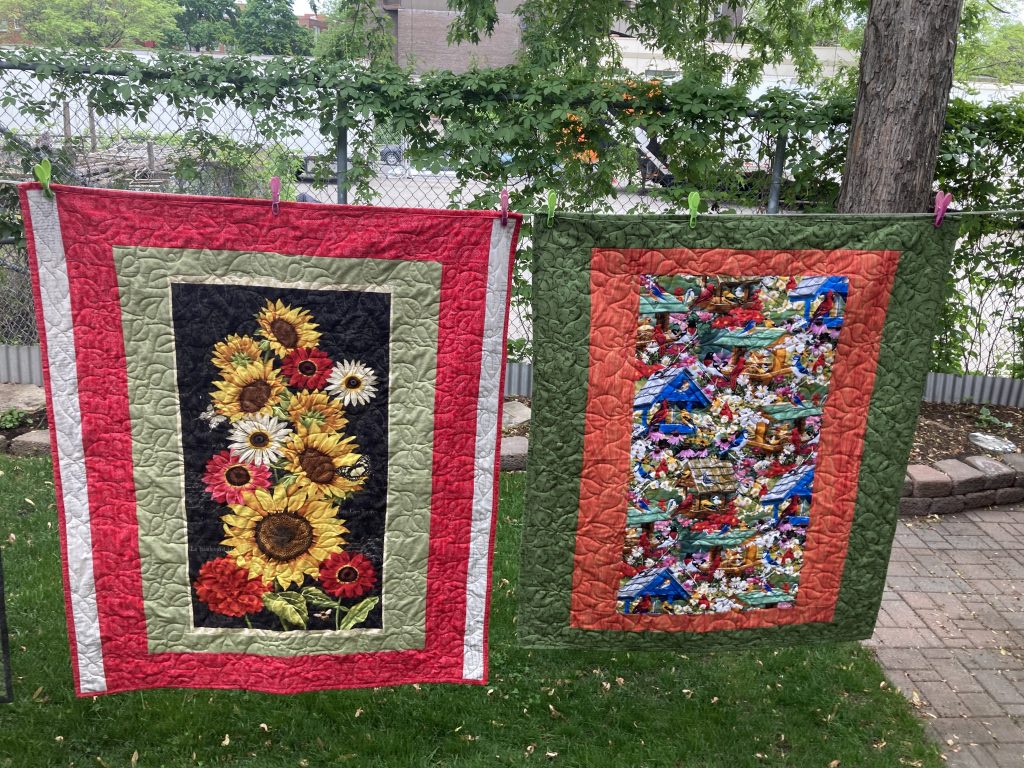 In this video, I explain why I make quilts for this group.
And then I decided I wanted to see what the fuss was about quilting on vintage linens. My first try: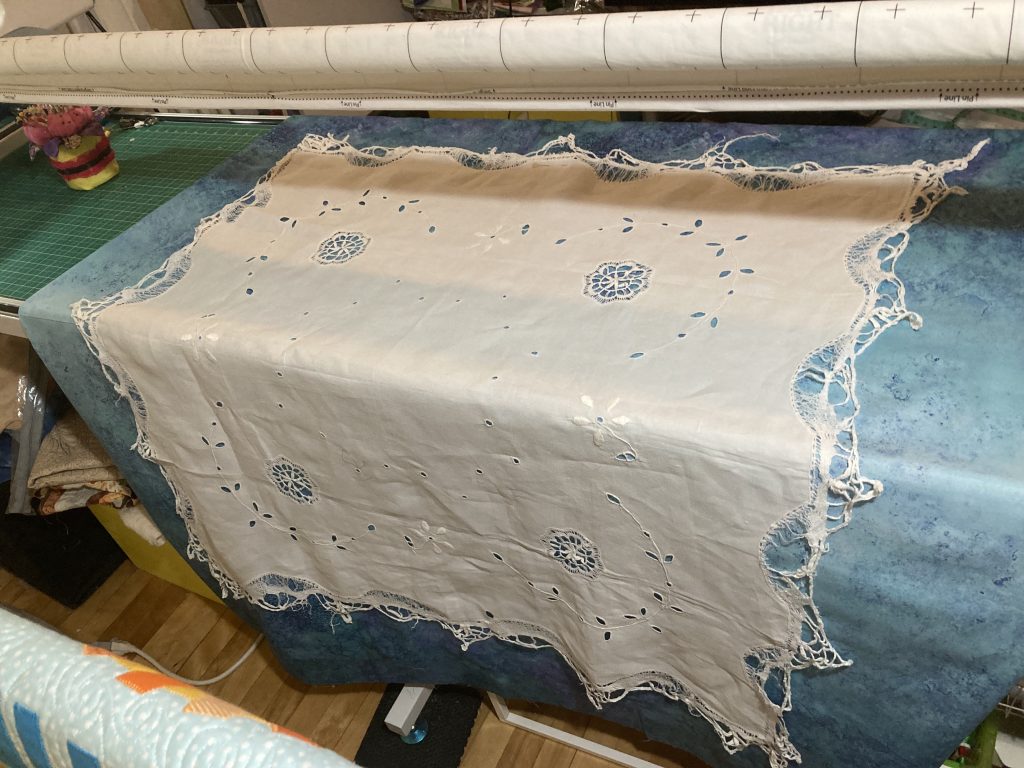 Before I got going on the precious vintage tablecloth, I designed and practiced quilting on this wall hanging: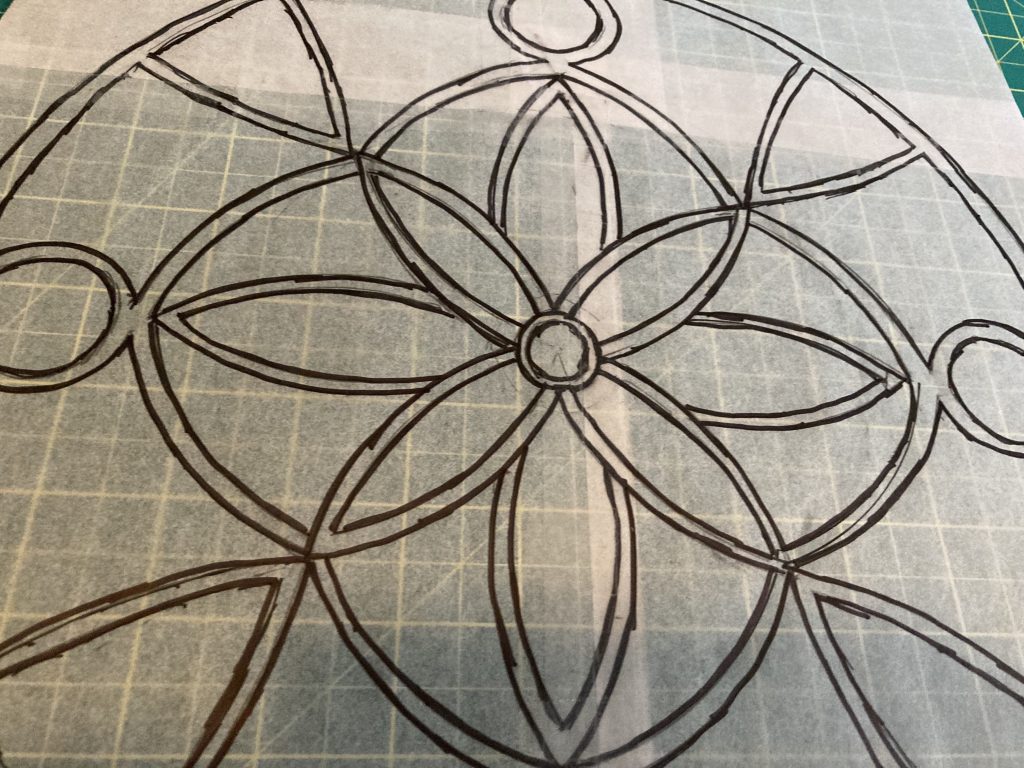 In July, I finished this beautiful quilt to honour my friend's 60th birthday and her retirement. We met in college where we studied nursing when we were only 17. The pattern is called Exploding Heart. The photo gives the quilt an olive-coloured tint, but it's much more white. I quilted in her name, as well as her husband's and children's names.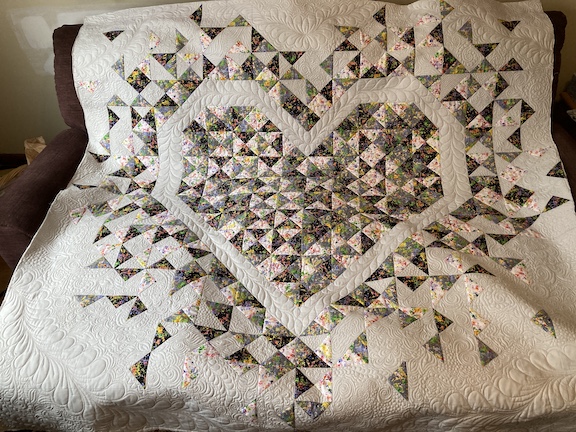 Then I decided to do another vintage tablecloth: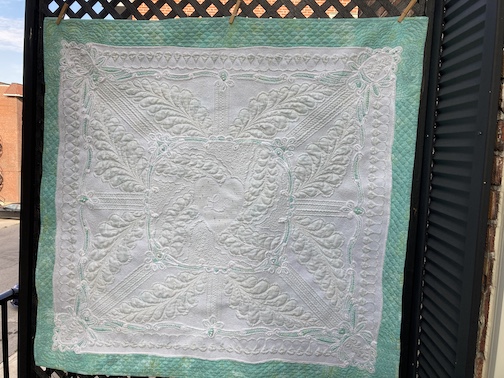 And then it was time to learn something new. I followed an online presentation by Ricky Tims on how to do a kaleidoscope quilt. I ended up making two. This is the first one. I ended up trading it with a local artist for a gorgeous painting.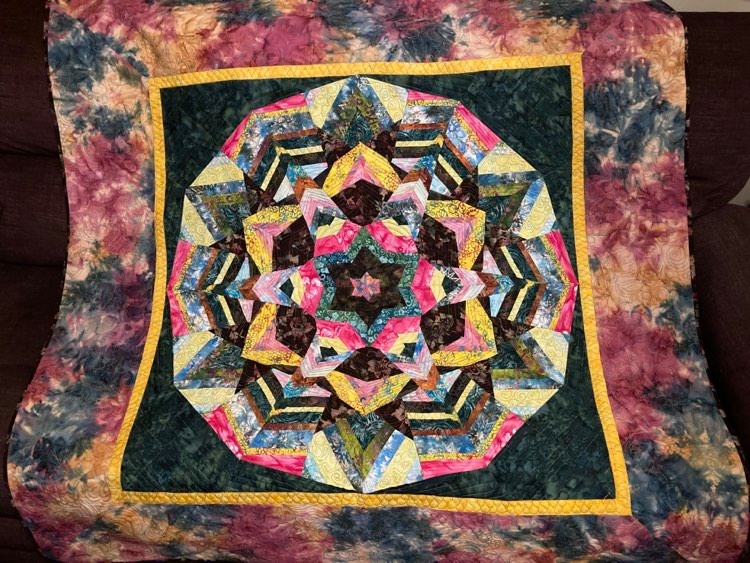 In August, I donated 6 more quilts for the Essential Boxes, 5 more in September (followed by 4 more in October).
September also saw my neighbour's 75th birthday, so I quilted this Dream Big panel for her: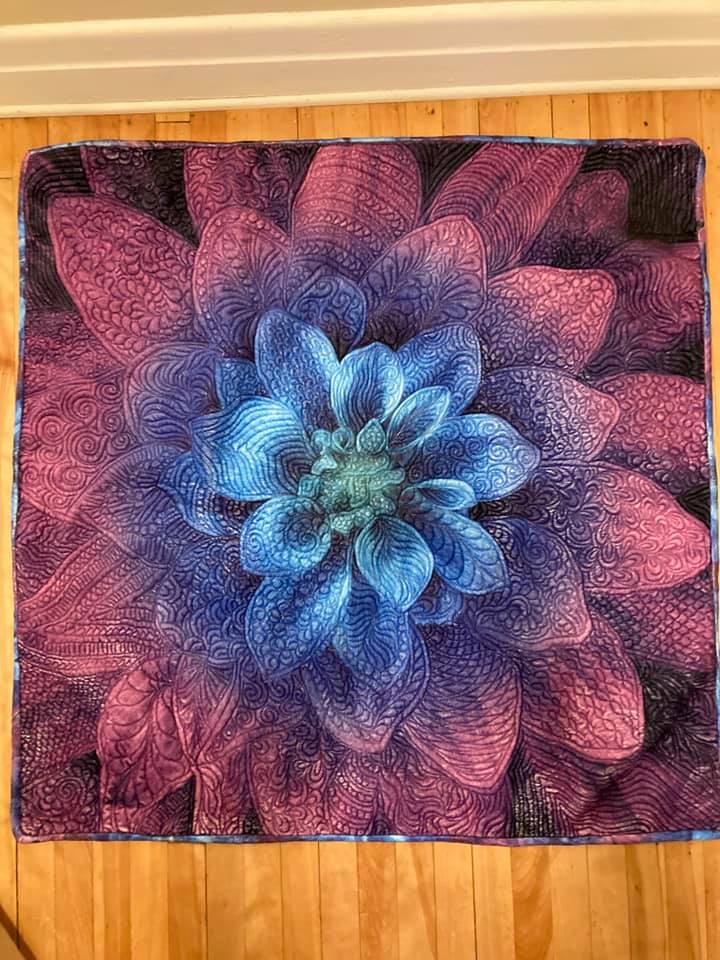 A sampler for the new local Monkland Quilt Studio: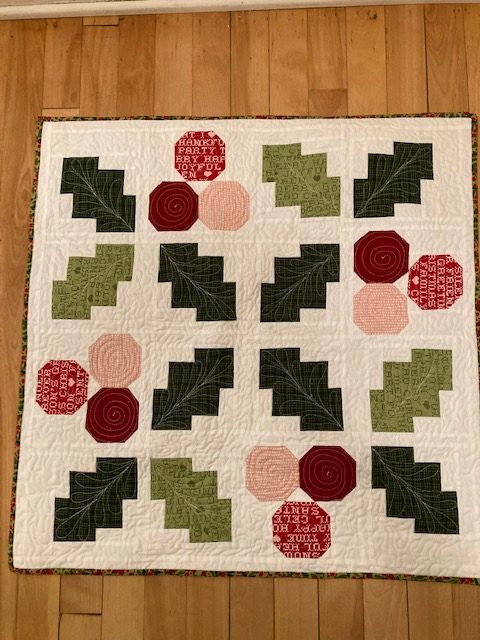 Last month, a good friend requested a lap quilt for a relative who lives in a long-term care facility. This is what I came up with: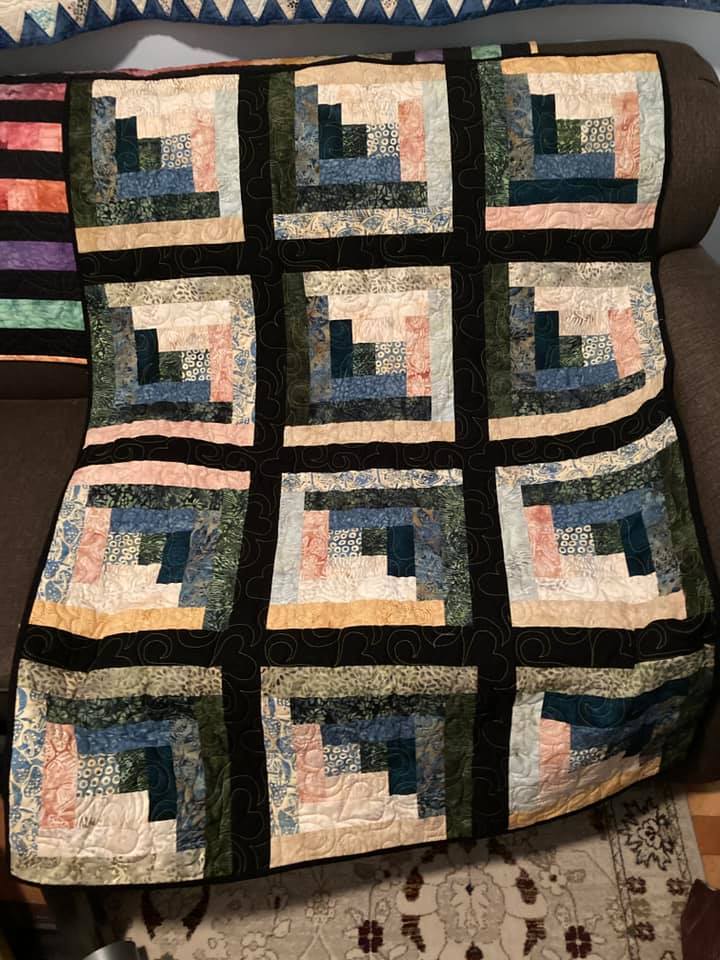 I also learned a new technique, a Zoom workshop held by my guild. I learned how to make this miniature mosaic.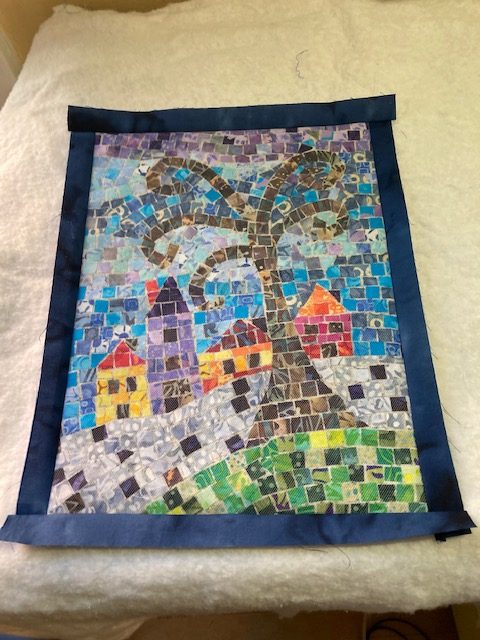 And the end of the month saw me produce 15 more donation quilts: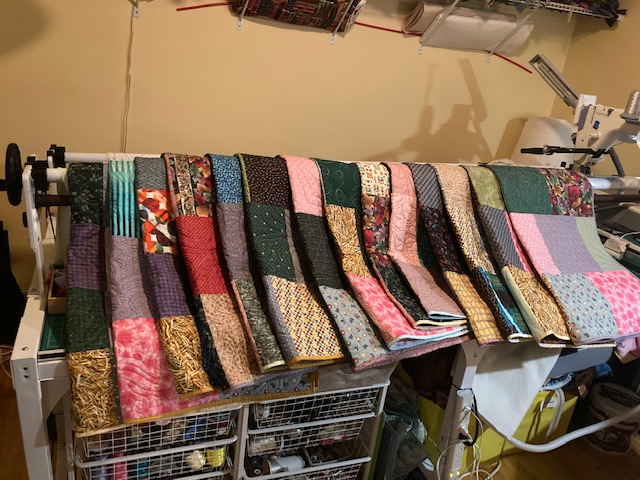 I also began a new design offering called Whimsy Quilts. I'll do another post about them later, but I made these 4 based on drawings from a friend's grandchildren: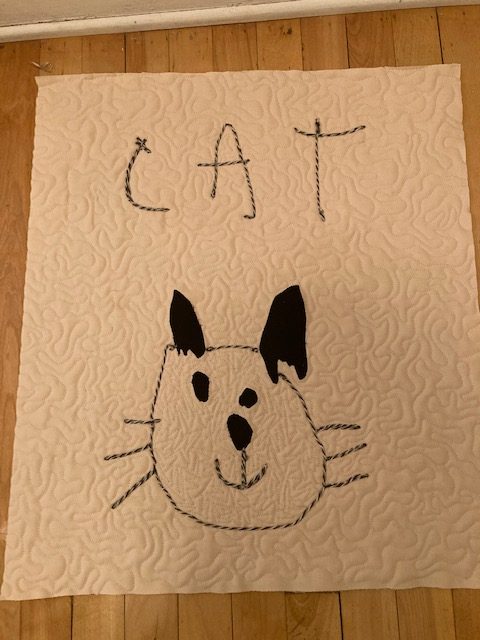 And, my piece de resistance, a quilt I don't think I'll ever be able to top, is this one I finished last week. Zoo Family Portrait: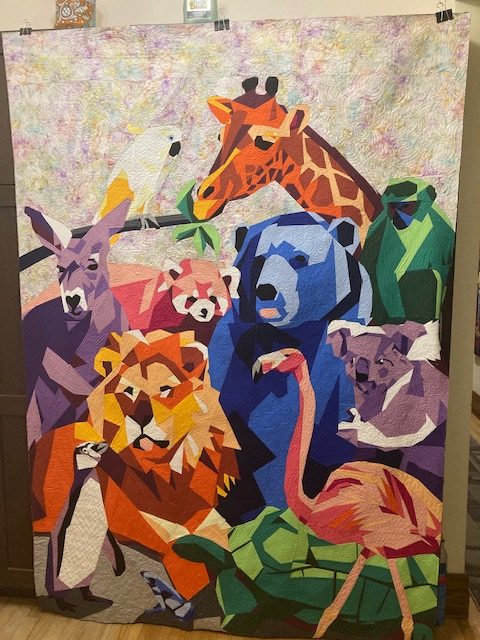 As of right now, I have to put the label and binding on my last quilt of the year. I finished quilting it yesterday. This is my design for a friend who does yoga and meditates. I freehanded the mandala, designing as I went along: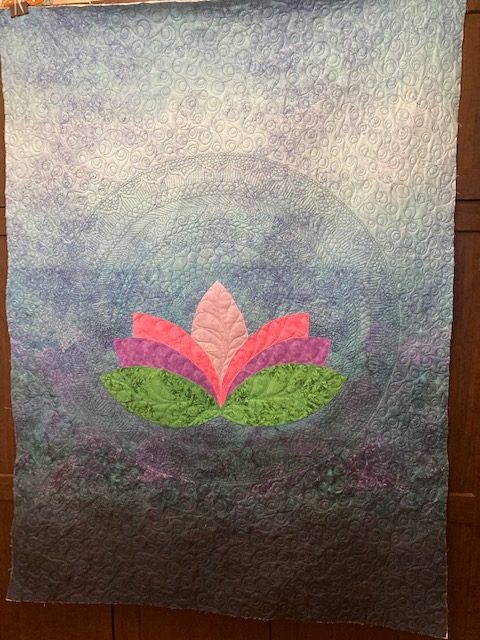 Pretty productive year! Now, on to 2022.