Whether it's work or play, we are frequently told to push ourselves, try new things, and stretch as far as we can. I do try to do that. I take on work projects that are a bit beyond my comfort zone, I go to conferences and push myself to socialize (definitely not something easy for me), and I try to learn new skills when the opportunity arises.
I do the same with quilting, but for some reason, stretching in quilting intimidates me more than in my work. I'm not sure why – maybe because words on a screen can be easily fixed, but ruined fabric can't? Who knows? Anyway, today I have a story for you of a time I did stretch my quilting, and I'm glad I did.
It all started in Mexico with my guild president's mother. She found a lovely piece of fabric and spent a long time hand-stitching beautiful flowers in the traditional Mexican style.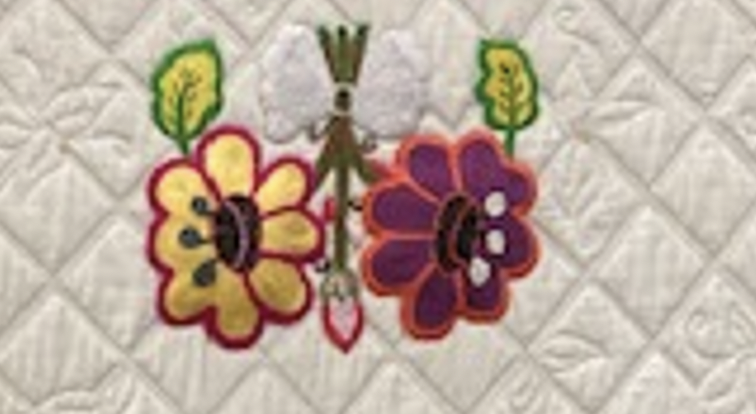 Nathalie, the guild president, brought the finished piece to our quilt retreat in March to show me. She asked if I would quilt it. She said I could quilt it in any way I thought would enhance the embroidery. I admit I was flattered by her trust, but I was also nervous. What if I messed it up? What if they didn't like it? What if….
Decisions, decisions…
I studied the quilt top along with other guild members of the guild. I love it when we all contribute ideas, toss some out and embellish others. Since the quilt was long and narrow, Nathalie initially thought she might add borders. But as we chatted, one member asked if the quilt would ever go on a bed – and it wouldn't. It was a purely decorative piece, Nathalie said. Suddenly, we were looking at the quilt top differently.
I circled the tables and looked at the fabric, listening to the conversations and coming up with a few ideas of my own. I needed something that highlighted the beautiful flowers without overwhelming them. I figured I would take it home and wait for the fabric to tell me what it wanted. I knew it would if I gave it a chance. But I didn't have to wait that long. All of a sudden, I saw in my mind's eye: a trellis. Now I just had to figure out how.
Getting the design on the fabric
This part was a challenge because the "slats" had to be the right size and the right distance apart. I wanted to add some leaves and tendrils, going behind and over the slats. I don't usually mark my quilts, but this was a time when marking was essential. Once the trellis and leaves were drawn (purple water soluble marker), it was time to quilt.
The only way I could do the slats was by doing line by line by line, back and forth, until the slats were thick enough to stand out. I listen to audiobooks when I quilt, and I went through a few of them! It was pretty tedious, but I was so glad I chose to do the design once I was finished.
Quilt show entry
The quilt was entered into our provincial quilt show and here it is: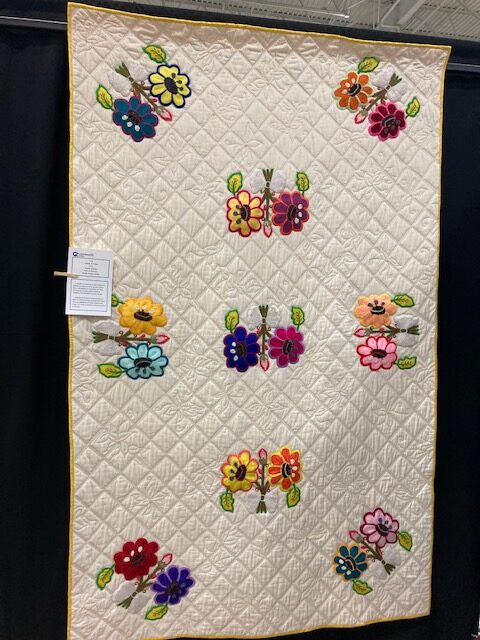 I was proud to have contributed to how gorgeous the quilt turned out, and it was a delight to see it hanging with my name on the card. But I have to admit, we were very puzzled by the judging.
One of the judges said there wasn't enough quilting. That astounded me. I couldn't add more quilting – it wouldn't have suited the design. I wasn't sure where she thought I should put it!
Anyway, it just goes to show you that beauty is really in the eye of the beholder. I think it's a gorgeous quilt and so do many people who saw it. I'm honoured that Nathalie asked me to quilt it. I'm honoured that she trusted me to bring out the beauty of her mother's work. And I'm glad I stretched.