Who Is Marijke and How the Heck Do You Say Her Name?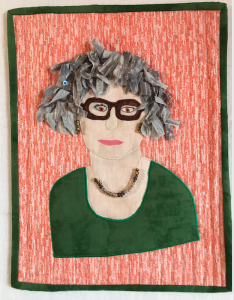 Welcome to my quilting site. (If you're looking for my professional writing site, it's at MedHealthWriter.com) My name is Marijke. It's a Dutch name – the "ij" is a vowel sound, so it's said something like muh-RYE-keh. If you click here, you can hear how it's said properly. I'm a writer, a nurse, a wife, and a mom to three wonderful kids who are really adults now. I've been quilting for almost 30 years. I was always artistic, trying all forms of crafts from counted cross stitch to knitting to cake decorating, along with many others. While I still knit, my passion is quilting.

Luckily, I work from home, so instead of coffee breaks, I take quilt breaks in my sewing room. This allows me to accomplish a lot because 15 minutes here, 15 minutes there, really adds up over time.

I began as a traditional hand quilter. I machine pieced, but hand quilted. I followed many patterns when I first began, but then my rebellious streak pushed me into designing some of my own quilts. As I learned more and became more confident, I learned how to machine quilt. I didn't want to at first because I enjoy hand quilting, but I had so many ideas in my head that I knew that if I restricted myself to hand quilting, I'd never get many of them done. I still quilt by hand, but those are my leisure projects.


Finally, this past January, I bought a longarm quilting machine and frame. When I began quilting almost 30 years ago, I never thought I'd machine quilt. When I began machine quilting about 7 years ago, I never thought I'd start working with a longarm. You never know where the quilting journey will take you.


Throughout the site, you'll find photos of quilts I've made and some I have for sale, tips and tricks for beginners, and ideas for those who are more advanced. I also plan to have some of my own patterns for sale. You will see links in my blog posts to various products I like or have seen. I am not an affiliate and I get no compensation for these links. I just like to share what I like.

So, pour yourself a beverage of choice, pull up a seat, and poke around the site. I hope you find something you like.