It's been a week since my last Christmas box reveal. I figured I should give my blog a chance to recover from the daily posts. And now – it's New Year's Eve where I am. Some of my readers are already in 2023. I always find it a bit crazy when I cross time zones. Not that I've done a lot of that since the pandemic started.
What I've been up to
My last post before the daily gift reveal was in August, and I've worked on many projects. Most of what I made was for my new granddaughter, but I did some other things too. A few more donation quilts for Bread & Beyond, some quilts for pay for some friends, and a lot of Christmas stuff. I also went on another quilt retreat with my group in November.
While there, I started two completely different quilts, one paper piecing, and one regular piecing, and I finished the top of one of my donation quilts. I quilted it a couple of weeks ago, and now I'm going to bind it this weekend. This morning I finished a baby quilt top, and I'll quilt it tomorrow so I can send it along to the recipient.
Machine embroidery quilts
I experimented with making some machine embroidery quilts. I can't show one yet as it is a gift, but it is more complex than I thought it would be. I embroidered and appliqued the blocks, but the problem was the corners where all the squares meet. I had difficulty getting my corners lined up and not being too bumpy.
This is a Christmas wall hanging I made with that technique.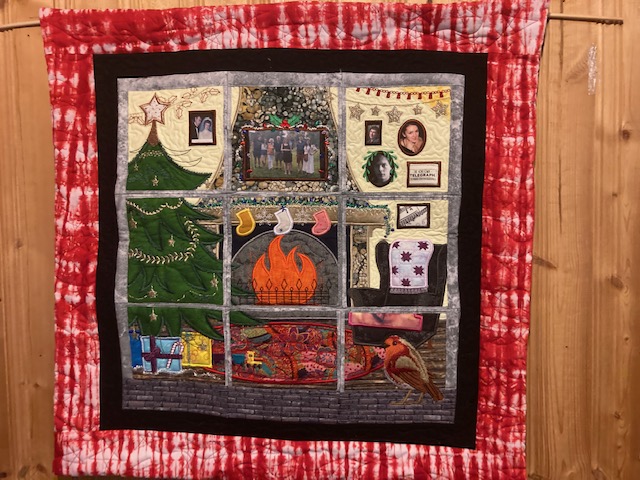 For the "paintings" in the wall hanging, I used photos I transferred to fabric.
I also made my new tree skirt with the machine embroidery. It was so much work. There are 15 each of inner, middle, and outer blocks. The inner and outer blocks took an average of an hour to an hour and a half each. The center blocks took an average of 3.5 hours. Yeah… that took a while! But the results were worth it.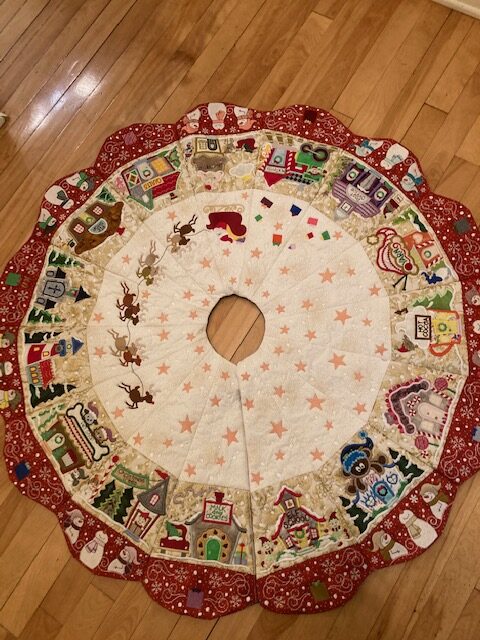 The featured quilt
The featured photo for today's post is a group donation quilt from my guild. This particular quilt is a wonderful way to explain how many people can participate in one project, and we don't even have to be in the same room.
A few years ago, a guild member received an unfinished quilt and fabric. Our guild president volunteered to rescue the quilt and complete the blocks. She did that at the March retreat. Over the summer, she and another member put the blocks together and assembled the top.
The top was revealed at our first guild meeting of the season, and they asked if someone would put the borders on and then quilt it. I volunteered.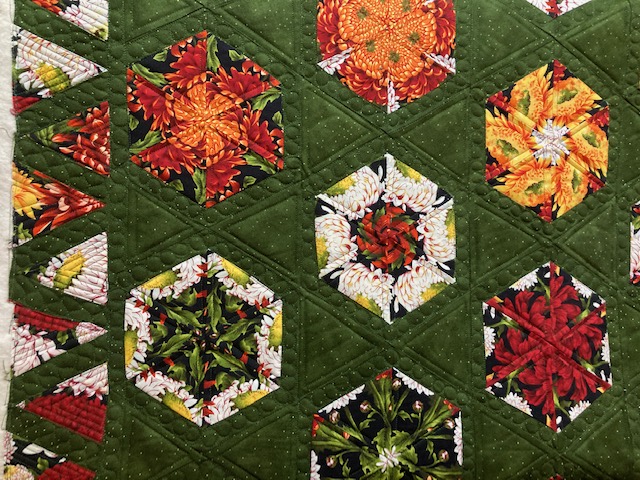 After the border was on and I quilted the whole thing, another member attached the binding. Yet another member made the label, and another sewed the binding back and attached the label. This was then donated to a local library for a successful Christmas raffle.
Isn't it incredible that so many had a hand in producing this lovely quilt? I'm happy to have been part of it, especially as a new member.
Coming up
I know I'll likely have a busy few work months coming up, and I hope it doesn't interfere with my quilting and creating. After I finish the baby quilt, I have two quilts to do for pay (for my guild president!) and a few for donations.
The donation quilts are different from my usual ones. A few weeks ago, my guild hosted a Zoom quilting day, and for several hours, many of us put together the same jelly roll top as we chatted. When I was done with mine, I said I would donate it, and a few other guild members said the same. I offered to do the quilting if they gave me the batting and backing – so I'll have a few to do. I'm curious to see where they will end up going.
So, that's about what has been up with me. Here are some photos of Christmas things I made for my family and friends.
See you soon – and I hope you all have a peaceful 2023 filled with things that make you feel loved and happy. On that note, I'm leaving some eye candy for you: