Are you stuck in a quilting rut? Do you want to try new techniques, like making a mini mosaic quilt, but you're not sure? I'm the "jump in and see what happens" type when it comes to quilting, so you know what I'm going to say to you, right? Yup – if a particular technique or project intrigues you, go for it. I did that several years ago for paper piecing – and even though it's not my favourite technique, I still do a paper pieced project from time to time if the right one comes up. You'll never learn any other way if it's something you enjoy doing.
Last weekend, I had the opportunity to participate in a guild workshop, held by Zoom. Our teacher was Cheryl Lynch and she taught us how to make a mini mosaic quilt. It was fun and interesting way to spend a few hours.
I've not tried to make a mosaic quilt before. The thought of using such tiny pieces of fabric wasn't all that appealing to me, but I figured I'd give it a try. Cheryl's technique uses 3/8 inch squares, some of which must be cut down a bit more to fit into awkward spaces! We worked on a page-size pattern, purchased from Cheryl. She has made much larger pieces using these tiny squares.
If you are interested in the technique, visit her website where you can find patterns and kits – as well as a special ruler for making these tiny "tiles."
The pattern I chose
Prior to the event, all the participants ordered the pattern and kit for a design that caught our eye. When we started our workshop, Cheryl went over the different designs that we ordered because each had its own quirks and recommendations. It turns out I was the only one that chose this labour intensive piece. Figures.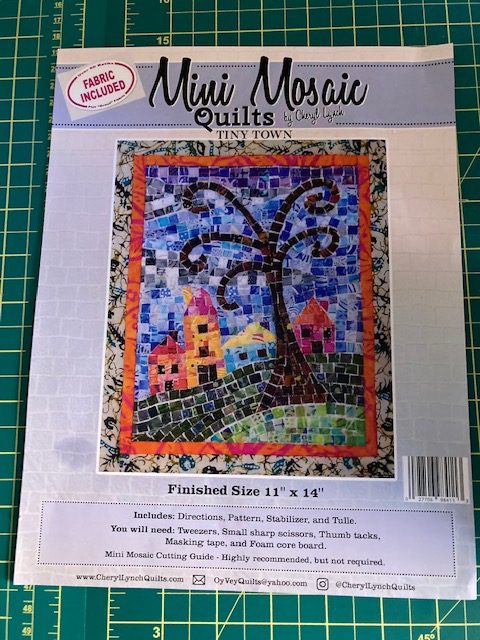 It seems like it may be a slow process, but it's not.
It's now ready for quilting. There is netting (tulle) over the piece, which will be quilted down through the process.
Things I learned while making this mini-mosaic
Learning a new technique can be challenging as you learn the basics and the more advanced parts. Here are some things I learned about mini mosaic quilts:
Don't have an open window near your accumulation of teeny, tiny "tiles"
If you need to sneeze, don't while leaning over your tiles!
Don't cough while leaning over your tiles.
Keep your containers of tiles way from the edge of your table.
Thoroughly check your sleeves when you leave the room.
Keep a clock or timer nearby so you don't end up spending way, way longer on the project than you meant to and now you have a sore upper back and neck….
Now I have to quilt it. Will I make another? Probably. I'm not sure what or when, but it is a relaxing and enjoyable way to make another piece of fabric art. Have you ever tried something like this?