Does the act of creating a quilted item bring you joy? It does to me.
Some people quilt because they learned from their mother or grandmother (or other significant adult in their life). Others picked it up along the way. Some make a few quilts over the years, others make many of them, non-stop it seems. Some hand quilt, some tie, some machine quilt or long arm. The things they make can be bed quilts, wall hangings, placemats and table runners, or useful items, like bags or coasters. But what all these people have in common is they are making a work of art.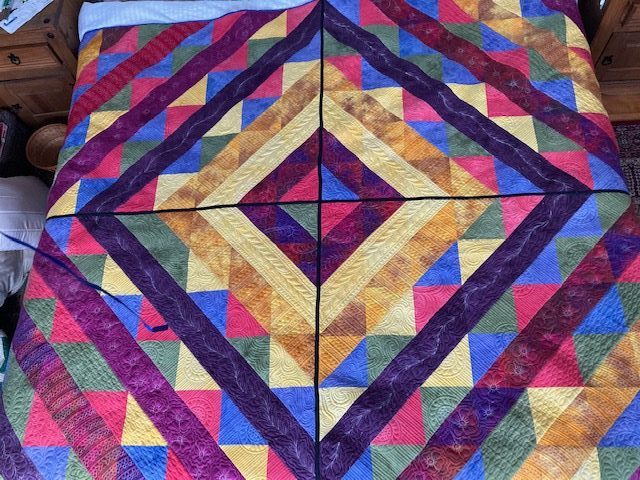 It may not seem to you that you're making art, especially if you only see yourself as making a quilt for the couch or a tote bag, but you are. You are taking fabric and recreating it into something else, something to be appreciated by either you or someone else. You chose a pattern (or designed one) and picked your fabric. And then you put it all together. You created something.
Quilting brings me such joy. From choosing what I want to make, to designing it or finding the right pattern right through to completing the project, it's a wonderful experience for me. I love the colours, the textures, the patterns. I love reading about other quilters and how they approach their projects. So many quilting teachers have blogs and generously share their secrets and tips. Over 30 years later, I still learn. I watch videos on YouTube, I read articles, and I try to learn more of what I already do.
I also get a lot of joy out of sharing what I do. My quilting is much the same as that of others, but it's also unique in many ways. So, I like to share what I do. I also like writing about quilting. I've written a few articles for quilt magazines and online outlets. My first quilting article was about Carla Hemlock, a Mohawk quilter who lives in Kahnawake, just off the island of Montreal. I remember being so nervous when I submitted it, but the editor loved it.
Three years ago, I wrote my first article for NextAvenue.org. If you don't know it, this online magazine is geared towards people over 50, and they run articles on all sorts of topics, from finance to health to lifestyle. They have a big readership as part of the PBS system. I pitched the lifestyle editor an article on how quilting can help improve or maintain health – both physical and mental.
It was a popular piece because quilters love to share. I was proud of it. This morning, I woke up to the news that The Quilt Show, with Ricky Tims and Alex Anderson, featured that article in today's newsletter. Imagine that. I was so thrilled. That means more people will get to read this piece, even three years after it was published.
This is a long way of saying that quilting can bring you joy in ways you may not expect. Because today, I'm joyful. And very thankful that I can marry my love of quilting with my love of writing.