Learning how to use a longarm quilting machine is challenging. I've been machine quilting for several years and, although I am good at it, using my machine is hard on my neck and shoulders – even with the suspension set up I have. So, I decided to give longarming a try.
After much research, I settled on the Grace Q'Nique 15R and an 8-ft Continuum frame. I ended up with the 15Pro, but the only difference that I see between the Pro and the R is the touch screen. I didn't have a lot of space, but by swapping rooms around, with my office moved into my sunroom, my office becoming my sewing room, and my sewing room a tiny, compact guest room, it worked. Everything fit exactly as it should. So then it was time to learn how to use the machine, christened Nicki.
Practice, practice, practice with my new longarm
The muscle memory I had from my machine quilting was only partially helpful with Nicki. It allowed me to see in my mind what I wanted to quilt, but to actually do it was completely different. The longarm machine responds to the slightest touch, moving in any direction, but sometimes it went right when I wanted it to go straight down, or left when I wanted to go up. For someone who craves being in control, this lack of control was quite disconcerting. One thing I learned along the way was the tiniest, thinnest thread on the track, where the wheels go that move the longarm, can cause a significant bump in your stitch line.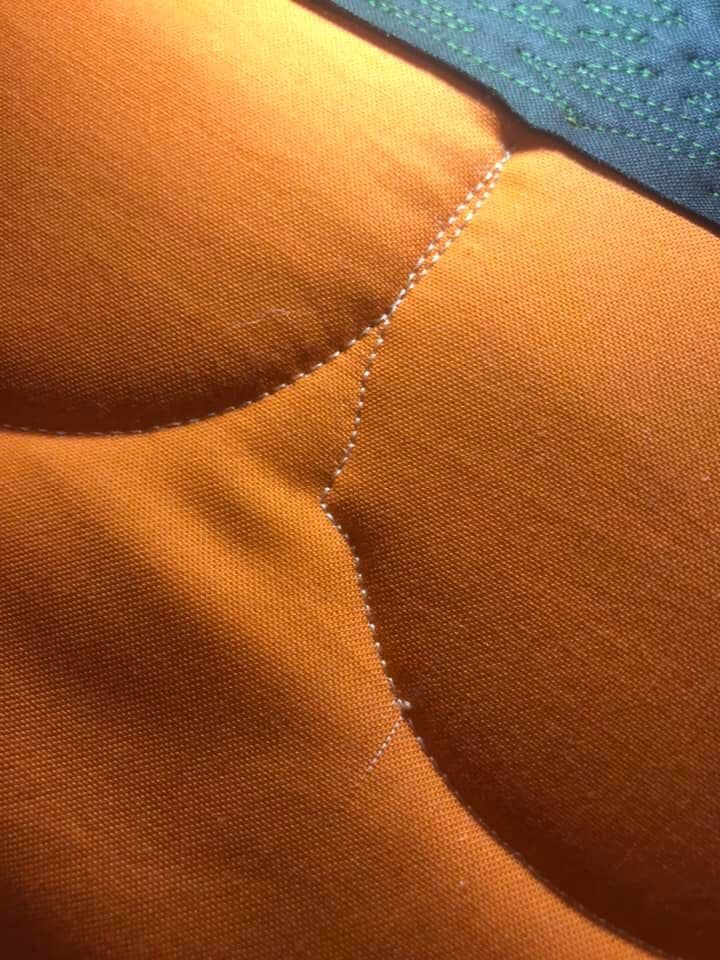 So, as I mentioned in a previous post, I practiced on Ugly Dog Quilts. I made three, giving me the opportunity to practice fillers, meandering, feathers, and tracing lines or outlines on the fabric. Once I'd done those, I felt confident enough to try working on a Quilt of Valour (Canadian) that a friend dropped off for me.
Working on the Quilt of Valour
I spent that Friday evening doing the first two rows. They were awful. The feathers were larger than the ones I'd practiced and so wobbly in the end. And the tension on the back was bad. So I spent the whole next day pulling out all those stitches, every last one. A few people said not to bother, that it still looked ok. But if I'm giving something to someone, even if I don't know the recipient, I have to be proud of it. And I wasn't proud of this.
I started quilting it again the next day and it turned out beautifully. I decided to use wiggly lines all across the log cabin blocks. They helped hide imperfections in the top and the fact that I can't quilt a straight line to save my life. I had ordered a ruler base and ruler foot so I can start doing straight lines, but it hadn't arrived yet, so wiggly lines were the pattern of the day.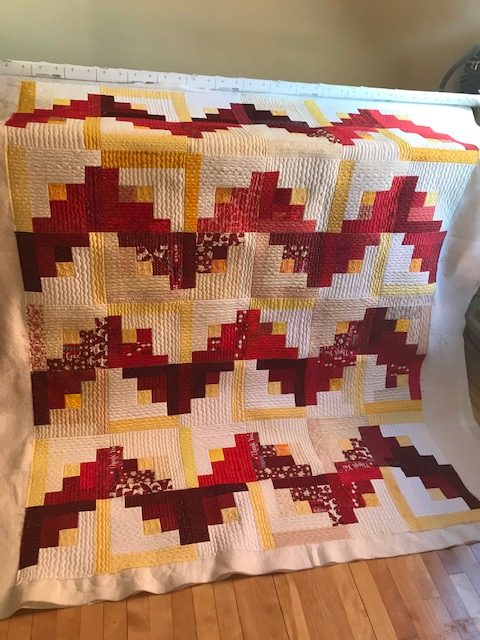 After I finished the quilt, I loaded another Ugly Dog Quilt to practice my feathers. I have a whiteboard notebook that I also practiced on. And by the time I'd finished practicing on the notebook and the UDQ, my feathers were much more improved.
Regular practice the rule of the day
I was trying to quilt for 15-30 minutes every day to get the hang of it, the feel for the machine, and to build muscle memory. It was challenging to find the time some days, but I think it worked out in the end. Interestingly, I learned that even a short break could affect my quilting. I went five days without quilting because I was out of town, and then shortly after a full week because Nicki had to go back to the store as she stopped working. When I got her back, I found the skills I had built up were already faltering and the first hour I was back quilting, I struggled a bit. Luckily, because I had practiced so much, after the first hour or so, it felt like I hadn't stopped quilting at all.
So, for those who are new to anything, be it machine quilting, hand quilting, or longarming, be persistent. You may not be happy with your first attempts, but think back to everything important you've learned throughout your life. Many times you had to keep trying and trying until you finally got it. But it was worth it in the end, wasn't it?