I know – it's been a bit too long since I last posted here. I've been busy quilting and playing with my new-to-me Pfaff Creative 3.0. It's a combination sewing/embroidery machine.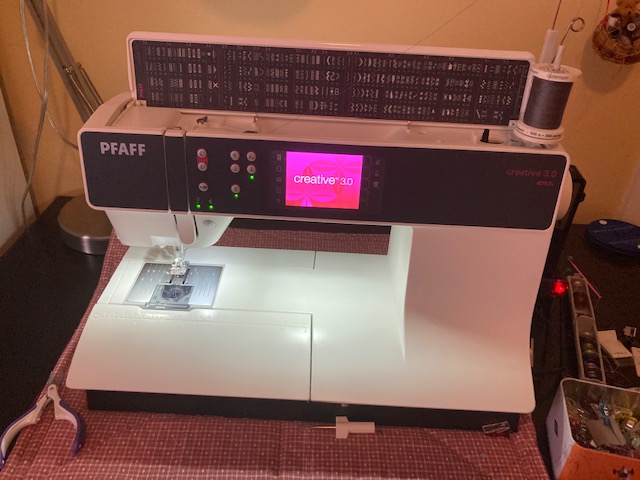 I bought her second-hand. I call her Pfanny the Pfaff. 🙂
Then, with the upcoming birth of our first grandchild, I got busy learning how to re-use an embroidery machine, making thank you gifts for baby shower attendees and other things.
I also learned that we can now combine machine embroidery with quilting – and I've found a new love to add to my quilting!
Machine Embroidery
Almost two decades ago, I had a Husqvarna something-or-other that did embroidery. I had some fun with it for a few months. I personalized pillow cases for my daughter, blankets for family, and a few other things. Then I lost interest and traded it in for a regular sewing machine. I figured there were only so many things I could embroider – until recently.
At the beginning of the year, I started to get interested in machine embroidery again and began researching machines. My Brother Innovus sewing machine was fine – I liked it and it sewed well, but I figured if I could get one that also embroidered, I could make quilt labels and other things. What I didn't know was how much the machine embroidery world changed since I had my first machine.
Now, not only can you embroider on towels, etc., you can make full-sized things, like bags and totes, bibs, stuffed animals, and even quilts. Woah – what world did I just transport to?
My First Projects
My daughter and I were planning for my son and his partner's baby shower. His partner wanted a co-ed one. Never having been to a co-ed shower, I had to adapt some of my shower know-how to appeal to all guests, including the thank you gifts. I decided this gave me a good opportunity to play with my machine.
What would appeal to most people? And what would they keep and use? I thought of bookmarks and luggage tags. And I got to work.
First, I started with the luggage tags. I'd made many several years ago and they were very popular with my friends. Personalized and colourful tags make it much easier to spot your bags. I still had some transparent plastic handy and got to work. I bought designs from Designs by Juju and Sweet Pea Embroidery. Over the past few months, I've looked at many machine embroidery sites and bought some patterns from them, but I find I really like the ones from these two stores. The designs are well digitized, and the instructions are quite detailed. They also have Facebook groups that allow you to see what others have done and to ask questions.
Then I moved on to the bookmarks. My first ones were stand-alone lace ones. I wanted to try them because I plan on making some lace Christmas ornaments, so I wanted to see how they worked out. My first was a disaster because of some mistakes, but three of them turned out well. Then I made more traditional bookmarks. My favourites were the ones that looked like old-fashioned library cards.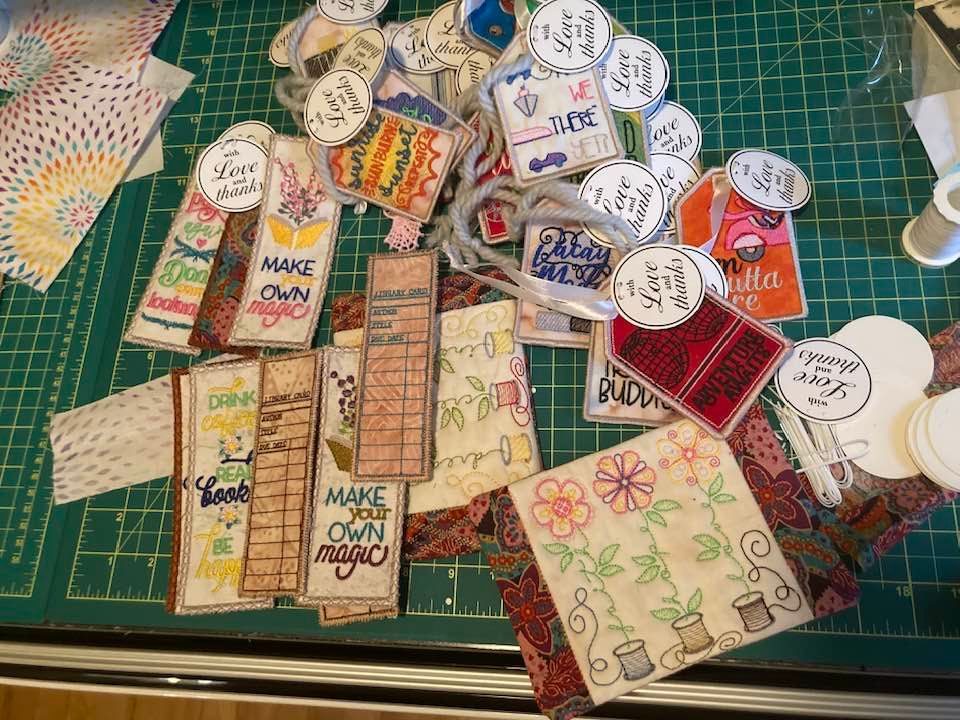 The weather was beyond perfect on the day of the shower, which was a good thing considering we had it outside in a local park! At the end of the shower, I placed the bookmarks and luggage tags on a table and invited our guests to help themselves. I was delighted to see them get snatched up. People were looking at the various sayings on them and commenting on how one was perfect for them. We took very few back home.
Oh! And I made mug rugs for game prizes: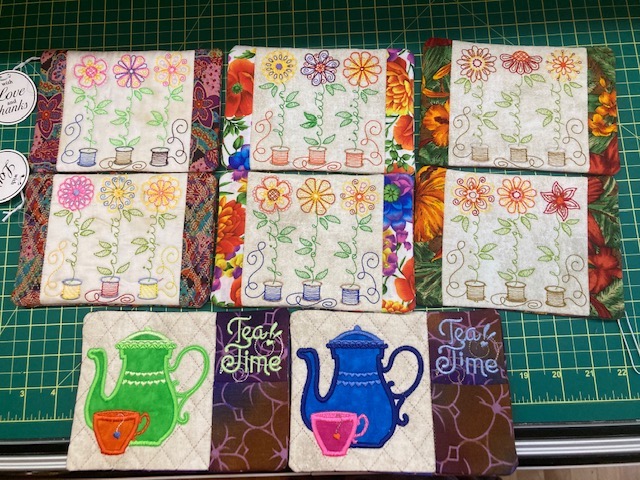 The following weekend, I wanted to try the sites' bag patterns. I was curious how one could make a full-size bag using a 7" x 11" hoop, the biggest one my machine can handle. Well, I'm here to tell you it's possible.
How cool is this?
I made this bag for a friend with an incredibly sunny personality, despite what is thrown at her.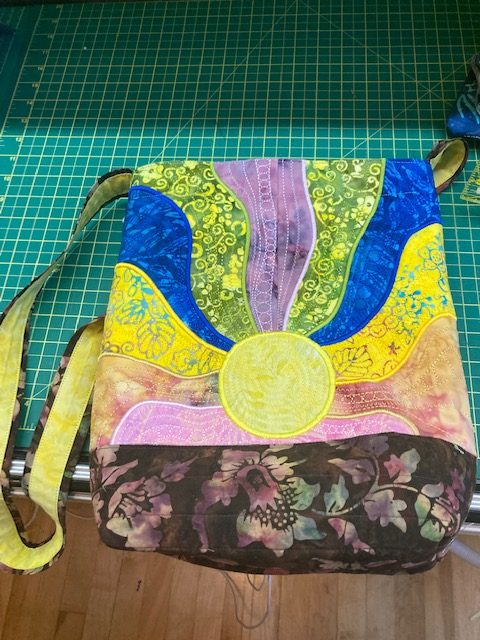 It's machine embroidered and quilted while it is made. But – what I didn't realize (and it was my fault for not reading the description correctly) was that there was no closure. I don't know about you, but I don't use purses/totes that I can't at least partially close. So I added a zipper to it when it was all done. Unless you know, I added it, you can't really see it.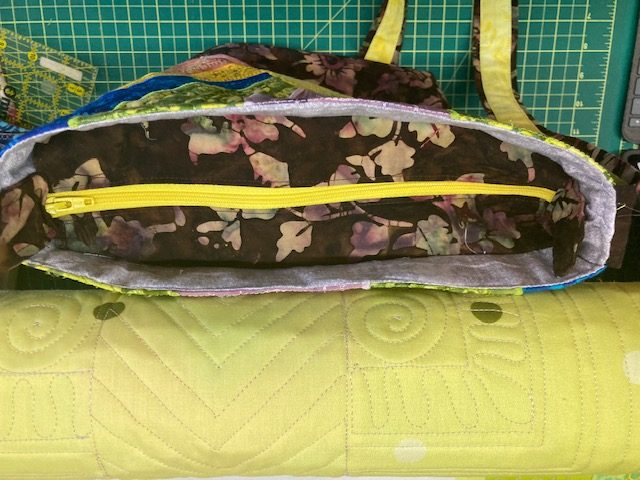 And this one was a small clutch-type bag I made for a friend who is into yoga, the earth, and all things natural. I thought the butterfly was perfect for her. It turns out that blue is her favourite colour too. I didn't know, but I'm glad I chose that fabric. The blue snap was a perfect match too. Sometimes it pays to hoard sewing supplies!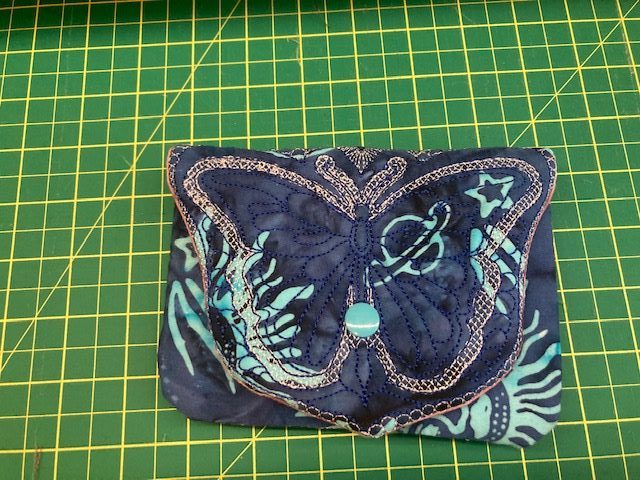 I also used the machine to add names on a quilt and a label. I will reveal this special quilt in a few days after I've brought it to its new home, just in case my friend reads this blog post.
Still Quilting Though, It's My First Art/Craft Love
If you follow me for my quilting, don't worry. I haven't gone completely over to the machine embroidery side, and I'm still doing quilting and sewing.
Let's see – I made a couple of cushions for my friend's birthday. The first is a paper-pieced and quilted top; the second is a machine embroidery piece that was also quilted by the machine: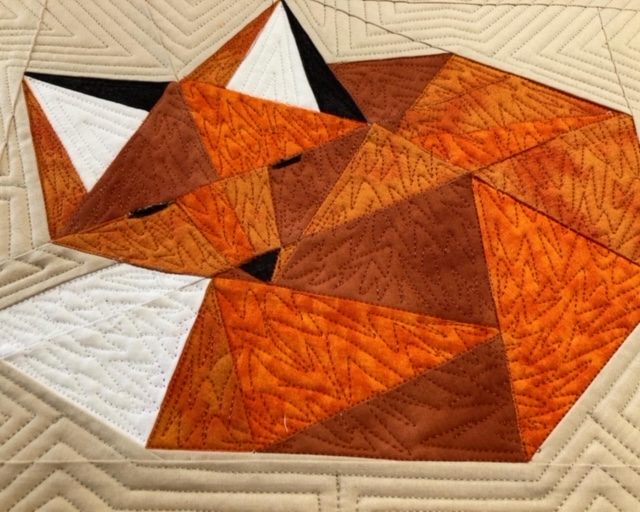 Aside from the machine embroidery, I made diapers for the little one, burp cloths, and receiving blankets.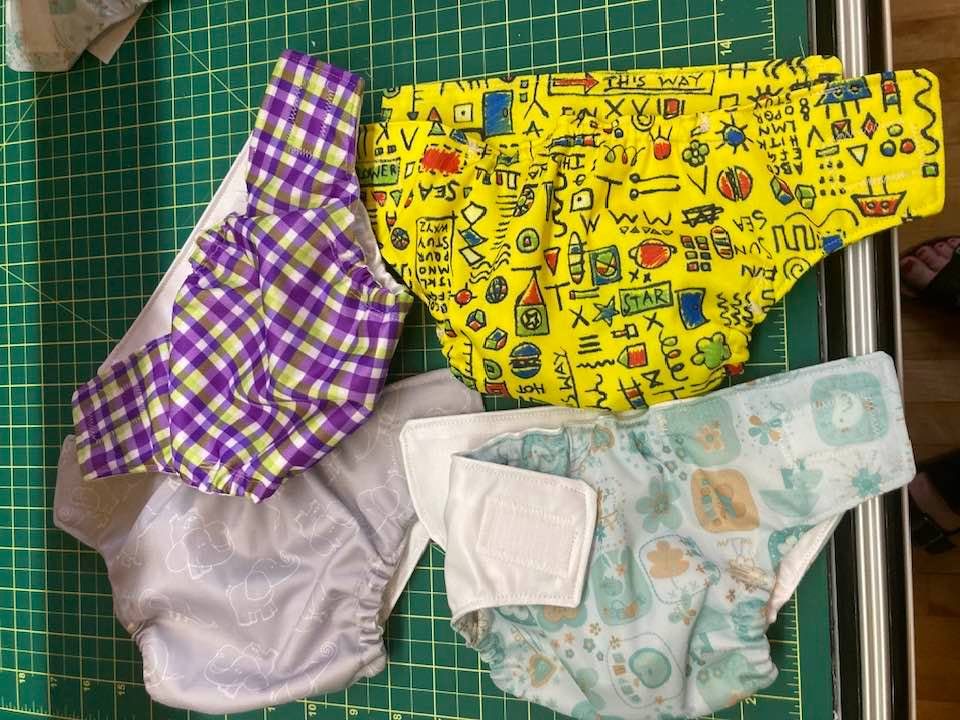 I just finished quilting two quilts for a friend – one a baby quilt and the other a huge butterfly with Tula fabrics. I learned that wool batting causes a LOT of lint. I usually use Hobbs 80/20, cotton, or bamboo. Another friend is dropping two off quilts this week for quilting.
If I have the time, I take in quilts from people I know. I enjoy this because I'm quilting some tops that I'd never make myself – either too complicated or something I haven't tried yet. And I find that it stretches me because they often tell me to quilt what I want. That is challenging but fun.
Until next time! Keep sewing, quilting, creating, and dreaming!