I'd love to hear why my fellow quilters have taken up this wonderful art. Why do you quilt? What brought you into quilting and what has kept you there?
I have always enjoyed making things. Over the years, I did just about every craft I came across. I was an accomplished knitter and I made some lovely things. I learned cake decorating. I did more counted cross stitch pieces than I can remember. I did stenciling when it was a craze, macramé, embroidery, painting ceramics, sketching, and more. I tried my hand at others, like stained glass and pottery. And I enjoyed everything I tried. But when I tried quilting, I was hooked.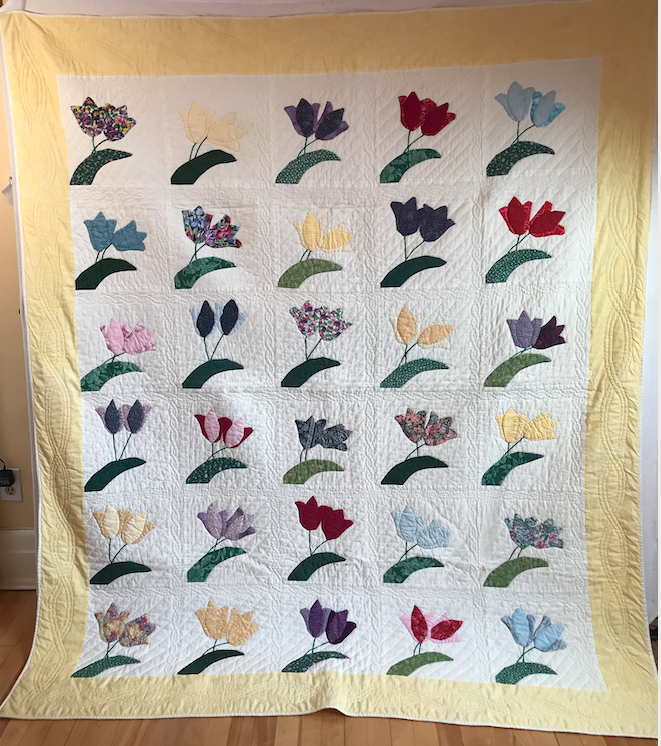 A quilt means colour, texture, love
I don't know what it is about quilting, but as soon as I finished my first quilt, I knew there would be many more in my future. There is something about the colour and texture of the fabrics and the freedom to do with them what I want. I absolutely love giving my quilts to friends and family. I like to choose fabrics and colours that I believe suit them. Once, I wanted to make a quilt for a long-distance writing friend but I didn't want her to know. So I made up a fake questionnaire for a group of mutual friends about what colours they liked. They were in on it, but the cover story was I was looking to pitch a story on preferred colours. It worked – she had no clue the quilt was coming.
I also like creating things that make the world around me more beautiful. I like being able to take fabrics and design art that makes me smile. I like making baby quilts that will be loved over the years. I like finding a well used, worn quilt I made sitting in someone's living room or bedroom. It's well worn because it is well loved. I even enjoy making my practice Ugly Dog Quilts, because I know that they will be well used by the rescue or adopted dogs who will get them.
Quilting fills my soul
Quilting seems to fill my soul. I've had some rough patches, and knowing I can go into my sewing room and concentrate on my art helps keep my mind from going to dark places or helps me lift my mind out of them. Quilting isn't a cure-all, but it's like a Tylenol when I have a headache. It helps ease the pain, even if it's for a little while.
Why do you quilt?