Have you made memory quilts or thought about making one?
A young woman reached out to me to ask if I could make some memory quilts and cushions with her mom's clothing. After some back and forth about what she envisioned, budget, etc., I agreed to do it. She gave me permission to share photos of what I make, but I'll call her Mary as she prefers not to be identified.
I didn't think twice about how it would feel to create a memory quilt – after all, a quilt is a quilt, right? Wrong. I was in for a surprise. After Mary dropped off the clothing, I got to work. I can't describe how I felt, but it was truly emotional cutting up clothing even though I'd never met her mother.
Mary asked for three quilts and many cushions, so I had to do my best to get as many squares out of the clothes as I could. She had decided on a plain 10" square pattern and I asked her to point out any particular pieces she would like highlighted.
The process of putting together a memory quilt
After cutting the clothing into usable pieces of fabric, I had to put stabilizer on each piece. All the clothing was knit fabric of some type, so the stabilizer was a must.
You can use different types of stabilizer for this project, as long as they can keep the fabric from stretching and they don't make the top too thick. For some squares, I used a product sold for t-shirt quilts; for other pieces I used some Pelon iron-on stabilizer. They both worked well. However, when I was just about finished the first batch – I dropped my iron. And said iron is now history. Luckily, it just missed my foot.
I ordered a new iron, completely new brand and style to me, but it won't arrive until Friday. I'll post about it when I get it. Hopefully, I'll like it. At first I thought I could get by without an iron until my new one arrived, but when you're a quilter, unless you are actually quilting, that iron is a necessity. Luckily, a friend let me borrow one to tide me over.
Anyway, back to the quilt.
Once the fabric was stabilized, I cut out 10.5 inch squares. This was super easy as I have a 10.5 inch square rulert. Hint: I used a 12″ rotating cutting mat. I cut one side, turned the cutting mat, cut the next, and so on. This prevented me having to pick up the square and realign it each time I needed to make a cut.
Then I got down to designing.
Designing memory quilts
Memory quilts can be designed any way you want, from simple to complicated. Mary's mom's clothes ranged from peaches/pinks to black, with a few other colours in between. I wanted a pleasing arrangement, keeping in mind the fabric to highlight. We had decided on simple sizes – 40" x 60" for the quilts, and about 18" x 18" for the cushions.
The quilt size allowed me to use a single piece of regular fabric for the backing, and it made it easier to get as many quilts and cushions out of the fabric as possible.
Once I was happy with my design, I started sewing the rows together, being careful to press the seams open or they would have been way too bulky. I used a Quilters Dream cotton batting, so the quilt wouldn't be too heavy.
On the frame
I used my longarm machine.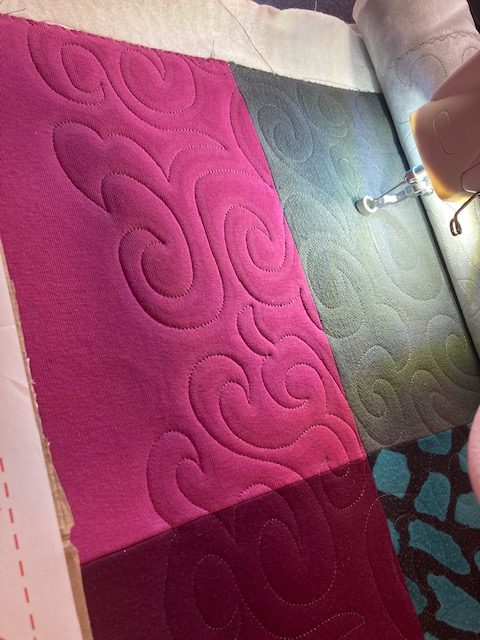 I quilted the four cushion tops all at the same time. The fabric backing was just wide enough for two across. I left about a half to an inch between each one. This saved a lot of time as I just pulled the completed pieces off the frame and then cut them apart.
This was the first part of her order filled: one quilt and four cushions.
I added some detail to three of the cushions – pockets. There were a few pieces of clothing that had pockets I could rescue and I thought they would be a nice touch.
The cushions were made envelope style. Very easy. There are several tutorials online already, so I won't go into detail here. Here is one that I used to refresh my memory. For a finishing touch, I top stitched a quarter of an inch around the cushion top so when the pillow form is inserted, the top will extend a touch beyond.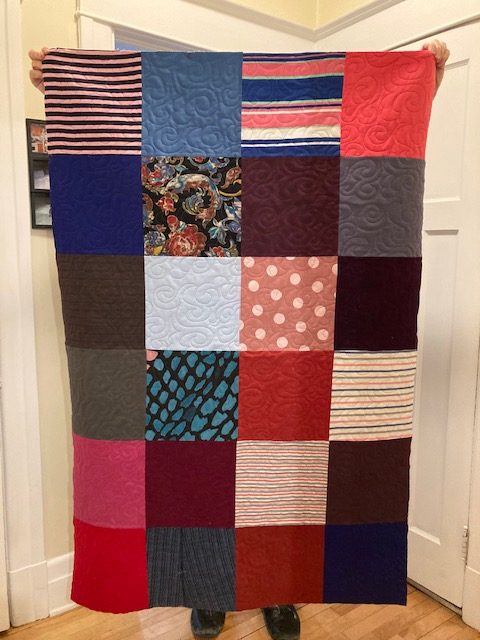 The best part? Mary was pleased. I still have two quilts and several more cushions to go.
If you are interested in making a memory quilt, but have been hesitating, don't let fear get in the way. Some of these squares have a very thin fabric, some very thick (think wool-like). But the stabilizer helps keep everything even.