Several weeks ago, a writer I know who lives on the other side of Canada messaged me with an interesting request. She had an old quilt, one her grandmother made in the 1960s. The quilting thread was worn and broken in many places. One side was typical 60s fabric and the other, Asian themed. She asked, would I be interested/able/available in creating a new quilt out of the fabric.
It was a twin-sized quilt, so there was a limited amount of fabric to work with, as she was hoping for a quilt big enough for her queen size bed.
The old quilt to new quilt challenge
I'm always up for a challenge, so after some back and forth, I had an idea.
I agreed and my friend and her daughter spent a few evenings taking out all the quilting stitches. She then parcelled up the two sides and sent them over to me. The fabric was still in excellent condition, just with some holes from the quilting. Those will disappear over time, and the new quilting would hide what didn't.
We discussed the backing and settled on a lovely vanilla textured/mottled fabric but when I went to order it, they were out of stock. There was a turquoise in the same line, so she decided to go for it. I do have to admit, I had my doubts – the photo didn't win me over. But when the fabric arrived, it was perfect – like it was meant to be.
And, we're off!
Rather than taking the blocks apart (that would have taken forever), I decided to treat the two sides as one full piece of fabric and I cut it up for the idea I had – stained glass. It's not a complicated pattern, several variations are available online, but sometimes the simplest patterns are the best for a particular project.
I used my rotary cutter to cut the rectangles and squares. It was a bit difficult because of the seams that popped up in the most inconvenient places, but it worked. I used a lovely black fabric for the "leading" between the blocks.
It turned out great – to me – but I didn't know how my friend would feel. I was keeping her updated, sending her photos of the fabric as it morphed into this new quilt.
I did hit a few rough spots. The seams in the quilt fabric made it hard to get exact straight lines in the black strips, and the blocks were coming out uneven in some spots, no matter how hard I tried. So I decided to deliberately off set them and have them all that way, rather than a few, which would then stand out.

Another problem I encountered: I didn't have enough fabric for the size she wanted. I gained a bit of size by increasing the black strips in width between each block. Inside the blocks, they were a quarter inch. Around the blocks, I made them a half inch. In these situations, every half inch counts!
But, the quilt top still wasn't big enough. What to do? Well, the turquoise backing was such a perfect match, that it made a great border. I always order a bit more than I need, and I had just enough for this addition. Then, I added yet another black border along the sides so the quilt would be wide enough.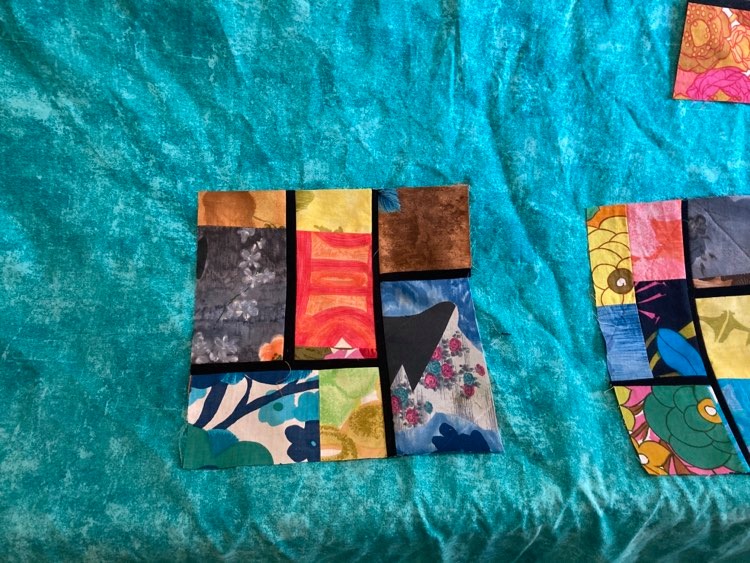 Now, the quilting
The fabric was so busy that extensive or elaborate quilting would be wasted – you just wouldn't see it. So I chose a nice swirly pattern to give it a sense of movement while trying to honour the fact the fabric was from the 60s. And – then the piece de resistance in my mind – was the thread. My friend mentioned that the original quilting was done in turquoise thread. Guess what I had on hand? I was thrilled to be able to use it on this quilt.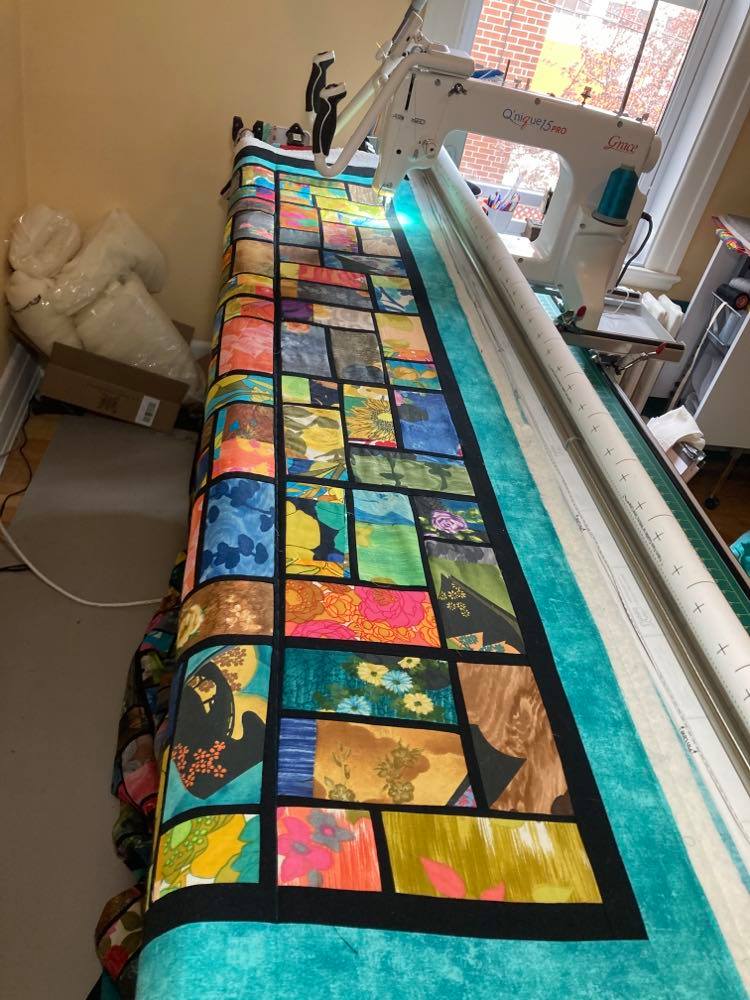 And here it is:
I am so delighted that she loves it. I am delighted at how my idea worked so well. And I am delighted that I was able to help my friend restore something that was so precious to her, and that can be passed down to yet another generation at some point.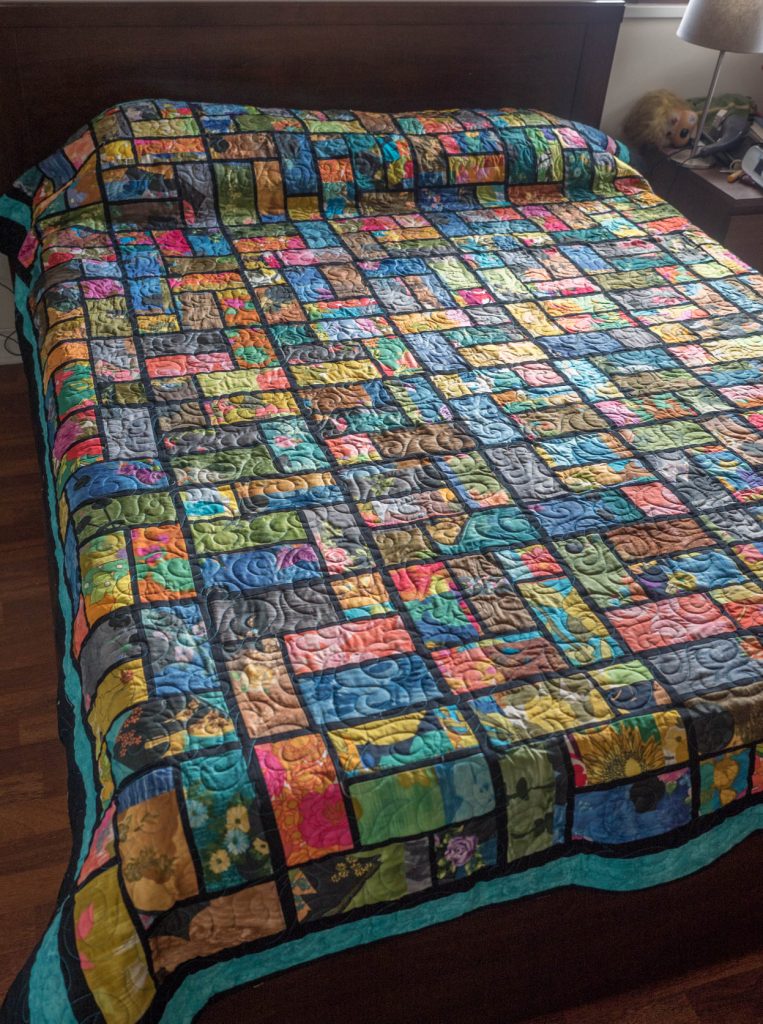 People ask me sometimes why I love to quilt so much. While I never imagined I would take on such a project, this is a good example of why I do love quilting. It takes me in unexpected directions. It helps me stretch, go beyond what I think I can do. And it makes other people very happy sometimes. And that, in itself, is a good enough reason for me to keep doing this.