I'm back! I've been away from writing for this site and my quilting Facebook page, but for a good reason.
In early July, I left my freelance life to work full-time as a managing editor for a health website. I kept one freelance client, so working full time for the site and doing work for that client, I was working pretty well 7 days a week, so my quilting time was limited.
After four monthsin the managing editor role, I realized that it was not me – I prefer the doing over the managing. So, I resigned and this past Monday, I went back to my freelance life, and quilting when I feel like it.
I didn't stop quilting completely, but the time was limited. I did make three quilt tops for gifts and a commissioned quilt. That one is going in the mail next week to its new home. I can't post photos of the gift quilt tops yet – I don't want the recipients to see them. The fabric I chose would give away what quilts are for who, so I'll show them after Christmas.
Today I started a quilt for my husband, also for Christmas. He's a golfer so I found some nice golf-related fabric and was scouting around for a simple pattern that would show it off. At one point I thought maybe I would use a snowball pattern or just plain squares, but neither appealed to me.
So, I Googled patterns that took three fabrics. It didn't take long to find one I liked that I thought fit the bill. And it's so easy. So if you're looking for a simple pattern that can make a special fabric sing, maybe the "Stepping Up Quilt" pattern is for you.
I found it at FabricCafe.com.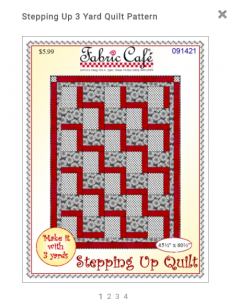 It really is quite easy. I cut out the fabric and sewed the blocks this afternoon in just an hour and a half. Tomorrow I'll put the pieces together and add the borders.
While piecing, I've been considering how I will quilt it. I think since it's a simple pattern that is focused on the golf fabric, I don't want to do any heavy quilting on it. I'm learning how to do pantographs on my longarm, so I may choose an edge-to-edge quilting pattern. This is a pattern that is the same right across and down the quilt.
It may be a bit tricky keeping him from seeing the quilt when it's on the frame, but he doesn't usually show a lot of interest in what is on there unless I call him into the room to show him. Wish me luck that he doesn't decide he wants to see what I'm working on!