Happy Monday! (?)
I hope that you all had a good weekend, despite all that is going on around us. Much of Quebec is in a red zone, which means our infection rate is high. Because I've worked from home for decades, I've been able to adapt, but I know not everyone is as fortunate.
I do miss my kids big time. My daughter lives a two-hour drive away and my two sons live here in Montreal. But we haven't seen them in person for a long time. I try hard to concentrate on what I do have. Aside from the usual, a roof over my head and food to eat, I have so many great friends. Some are here close by and others are around the world. Just knowing they have my back is so comforting.
I also have my quilting and boy, am I quilting! I even managed to squeeze some in while I was working full-time for four months. And now that I'm back to my preferred work – freelancing – I'm getting to more quilts again.
I can't show you the lap quilts I worked on this weekend, but I can show you my husband's gift, because he doesn't read this blog.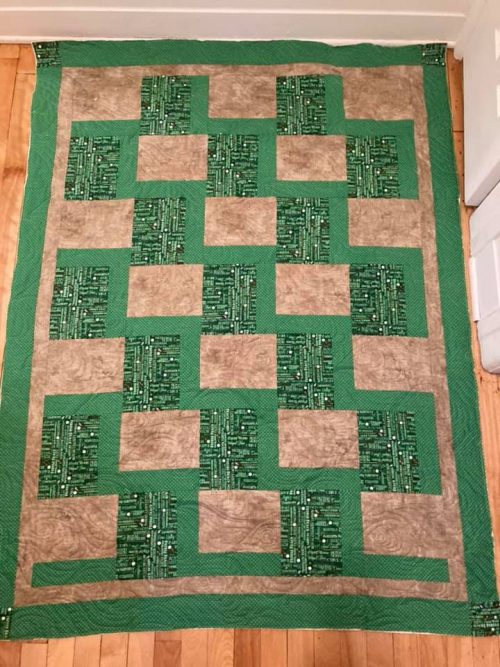 I have several quilts in the living room for us to use if we're chilly while watching TV or reading – that sort of thing. My husband began using one particular one many years ago and he uses it all the time. But it's getting worn and frayed. So I decided it was time I made him his own quilt. After all, each kids has at least 3, and he sees many leaving the house to go live with my friends.
I mentioned an easy quilt pattern in my last post, called the Stepping Up Quilt. So that what I used for him. He loves golf, so I found some nice golf fabric, a lovely brown that reminded me of the sand traps, and a green that had little dots that reminded me of golf balls. The quilting also reminded me of sand dunes. This was the result:
I am happy with it but…. If I had to do it again, I wouldn't have put the borders on as I did. I find the bottom row looks a bit odd. But maybe others don't.
I did use my long-arm machine with a pantograph. You can learn about pantographs here.
I never thought I would use a pantograph. Technically, you need to buy handles and a laser to go onto the back of your machine. Back there is a table the width of your frame. You place your pantograph paper all along the frame. Then you move your machine, with the laser following the lines on the pantograph. While you do that, your machine is stitching in the front the pattern that you're following in the back.
I did not like the idea of spending a few hundred dollars on back handles, nor did I like the idea of being behind my machine, where I couldn't see the stitches. Sometimes thread shreds and breaks, you run out of thread on your bobbin, or you suddenly start skipping stitches. If I'm in the back, I can't see that, right?
So, I watched a couple of videos from quilters who rigged up a system to be able to do pantographs at the front of your machine. And I tried it. And it worked!
I won't do a lot of pantographs. I like doing my own designs to highlight the quilts, but an edge-to-edge pantograph does go quickly and allows you to use designs you might not usually. So now I have this in my back pocket should I need to do fast quilts.
So, back to the easy and quick designs. Do you have a favourite? What is your go-to design for a fast quilt?