It's done! My vintage tablecloth project is done. And given that it was my first try at something like this – I have to say, I'm quite proud of it.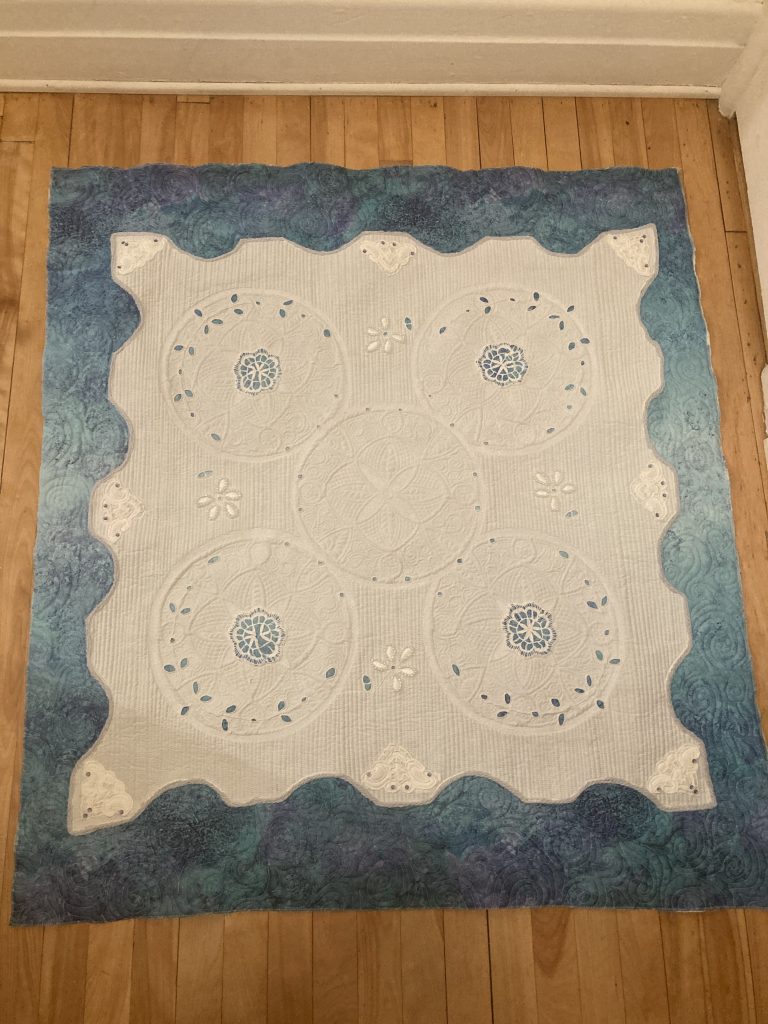 You can find the blog posts on how this project started here:
Repurposing Old Items, Like a Vintage Tablecloth
When I started this project, I joined a Facebook group that focuses on vintage quilts. The group owner received a nastygram from someone about how awful it was that group members were cutting apart things like my vintage tablecloth, old quilts, and more.
My opinion? She was dead wrong. Completely wrong.
Many vintage pieces were themselves created from pieces of other items. And even if they're not, many of those that still exist are too fragile to use. They often end up in drawers and closets, to keep them safe. But safe from what? Who sees these pieces that are hidden away, to keep them safe? What better thing an artist can do is to recreate something from an item that no longer has a use? For instance, take the quilt I repurposed for a friend. It was a single quilt, much loved, but not useful. By repurposing it, she has a lovely quilt that will be used for years to come.
So, if you want to repurpose something old, do it. Don't let a curmudgeon tell you that you can't. Ok, off my soap box now….
Many Changes from Original Plans
You will see in my videos that I made many changes along the way, but that's ok. I didn't really know what I wanted to do until I saw the project take shape.
The medallions went well. The quilting was dense and intricate, but it was fun and not that hard to do.
I did take special care in some spots. The person who created this lovely tablecloth made stems for the flowers, so I was careful not to cross over them as much as I could. I wanted them to still be obvious.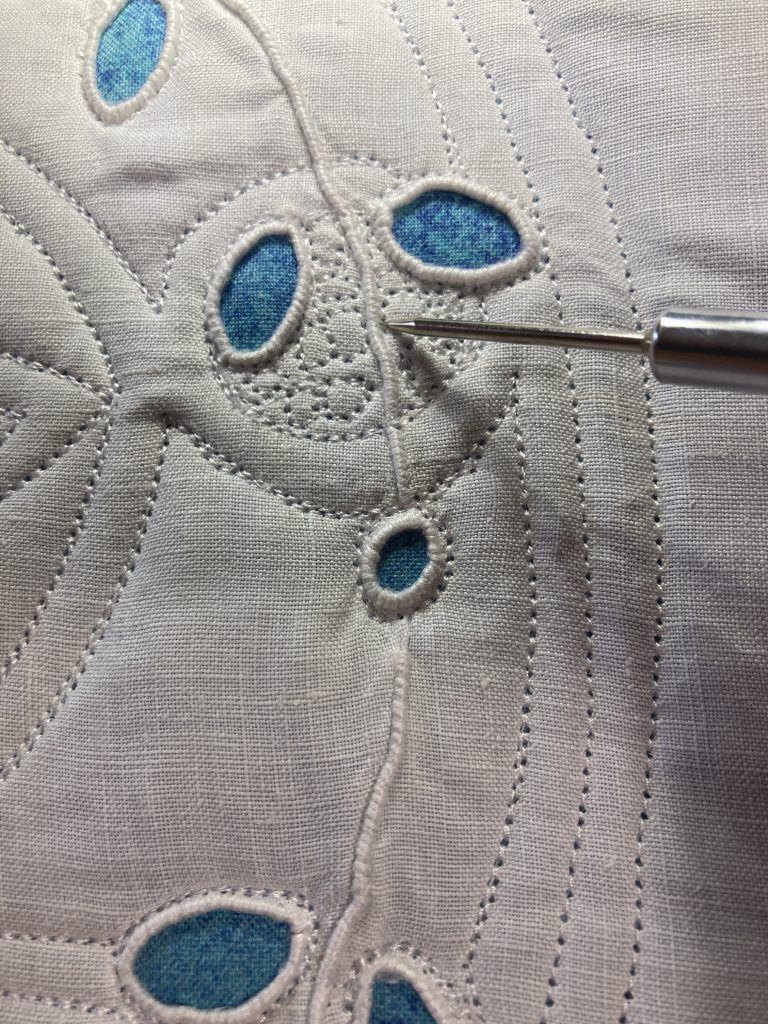 Oops, Another Change in Plans
When the medallions were done, I thought it would be a good idea to densely quilt around the flower petals. It wasn't. I had to take it out, but it left some fabric damage. But, like most things, this was fixable. I just put beads around that spot.
Originally, I planned on using some mother-of-pearl type beads, but they were too large and overwhelmed the petals. I thought it was the case and a friend kindly said the same thing. I say kindly because I really appreciated that she said something. I'd rather people be honest that way – it's how I learn and grow.
I did audition some of the purplish crystals, but they didn't look right.
Finishing the Edges with Couching
I also did something else I'd never done before – couching. I bought a couching foot for my machine and I added some thick yarn around the edging to finish it off. It's a very light, kind of grey colour. But I think it works.
I also snipped off the lace. I didn't want to. I really wanted to keep it, but it was so damaged that I couldn't fix it.
Instead, I had some vintage napkins that had some lace on one corner. I had enough to snip them off and use them in all four corners and along the sides. Bonus: there was a hole in the tablecloth along one side and the added lace/applique hid it.
I still need to put a binding or facing on it, but overall, it's great. Even the back looks good.
Here is the video from when it was still on the frame:
And here is the finished product.
I wasn't sure what I was going to do with it once it was complete, but I decided to give it to the person who gave me the tablecloth in the first place. I hope she is as happy with it as I am.
On to the next project!