Quilting can be so much fun because there are a multitude of ways you can express yourself. You can try different styles and techniques and if you don't like the process or result, you just don't do it again. Some might say that you've lost time and fabric, but I don't agree. With every new technique you try, you learn some new skills. You also learn what you like and don't like, and that's never a waste of time or effort.
Express your art faster with machine quilting
I never thought I'd like machine quilting. I didn't like the idea of sitting behind my sewing machine for extended periods just to quilt. I didn't mind piecing or appliqueing my quilt tops, but machine quilting just didn't seem right to me.
I tried a few times. I signed up for some online classes and made some placemats, but it wasn't enjoyable. I tried again a bit later, same results. Then one day I decided to give it a real try – I needed a way to speed up my quilting process if I had any hopes of making a dent in my idea files that rested in my head. And to my surprise and delight, I found that once I mastered machine quilting, I enjoyed it.
What about art quilts?
I never thought I'd make art quilts. Art quilts were for other people. Some of them were quite lovely, but nah, that wasn't for me. Until I tried making an art quilt. Hey! Making art quilts is fun!
The list of things I thought I'd never do is long. I'm not a modern art lover – it's not my taste. But, surprisingly, I enjoy making modern quilts a lot. I don't like certain colours, yellow and orange mostly, but I've made quilts that focus heavily on those colours and they're beautiful.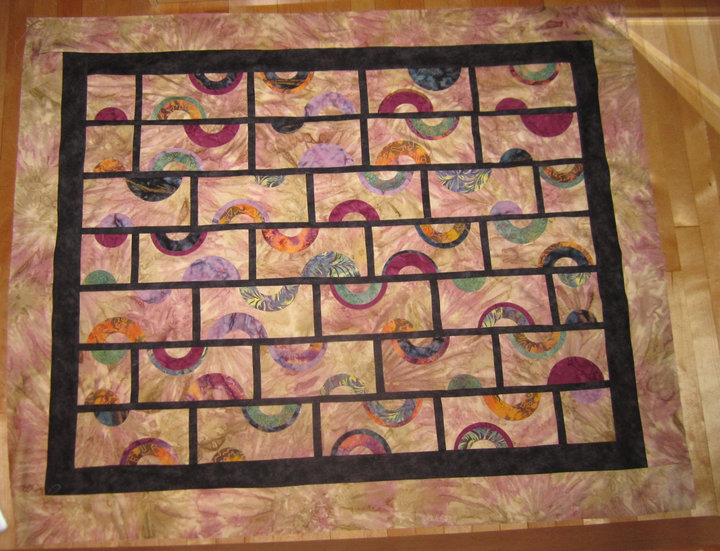 If you go through life only doing the same things over and over again, it can be enjoyable. You don't have to do anything drastic. Other than a quilt being three layers (top, batting, backing), there are no rules. But learning new things helps you grow and may help you find things that you never knew existed or you never realized you would enjoy. If you only make traditional bed quilts from patterns, why not try your hand at combining some patterns to make your own version? Perhaps you can choose your own fabrics for a pattern rather than the ones recommended by the designer. If you quilt the same designs over and over, try changing it up a bit. Take a class. Join a guild. Stretch yourself. You may discover a whole new side to your creativity.
Have you done anything in your quilting journey that you thought you would never do?