This wall hanging, Taxi!, draws a lot of compliments. I have it as my phone screen and I also have it as my phone cover. A friend's husband started a company that can make personalized phone covers.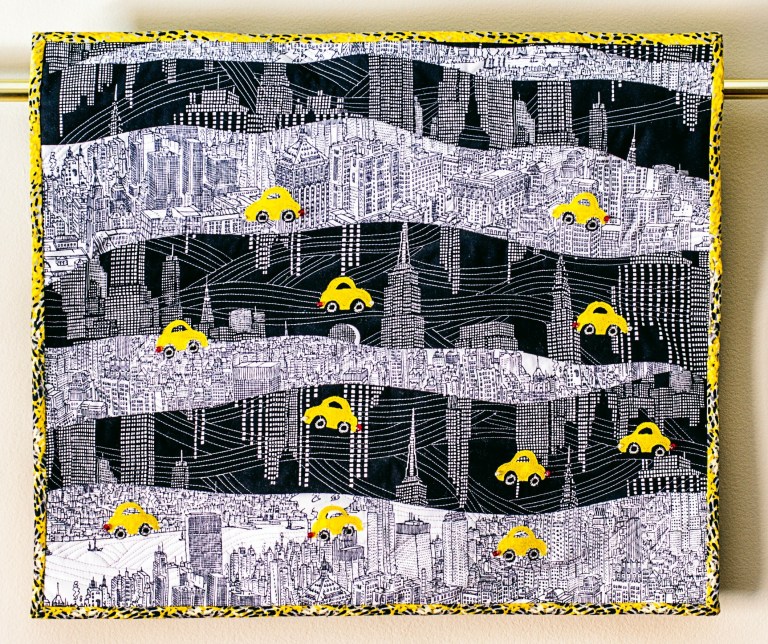 The wall hanging came together quite quickly once I had the idea. I'd bought the NYC skyline from City Quilters, which used to have a Manhattan store, but they only sell online now. I bought a yard of each, day and night, without having any specific ideas. But as I looked at it, the city streets came to mind.
I cut up the fabric in curves and then sewed together the different pieces. Using an outline of a car to use for cabs, I cut out a bunch in yellow, and added red beads for brake lights and clear beads for head lights. I finished eah cab by using my eyelet stitch on my sewing machine and metallic silver thread. The cabs were appliqued on by machine.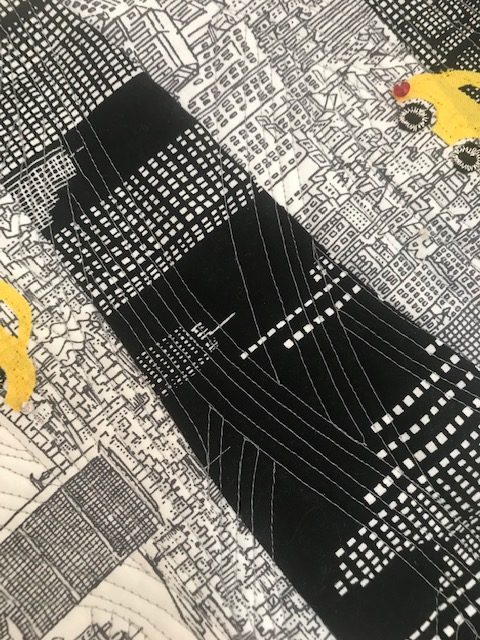 Quilting Taxi!
I did have a plan for quilting, but I veered a bit. At first, I was going to machine quilt street lines throughout the piece, behind each cab. But after I'd done several lines, with still some parts not quilted, it looked finished. It seemed to me that quilting all of it would have been too much.
Some people noticed that I didn't quilt around the cabs to highlight them. I'm not sure why I chose not to, but I didn't. But I didn't quilt through them either. You can tell from the backing that I stopped and started a lot.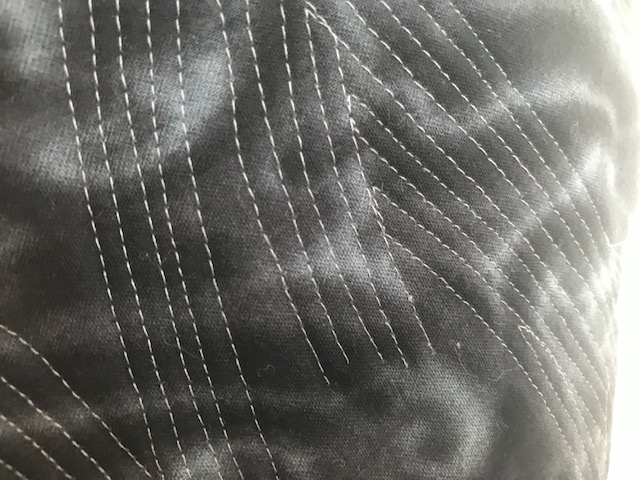 I used my walking foot for this as it helped keep the layers pretty even.
Once the quilting was finished, I was delighted to find black and yellow fabric in my stash that was a perfect match for the binding. I don't have a lot of yellow in my fabric, so it was a good find.
And that's how I quilted Taxi!
To watch a short video on the process, click here.
There are also many other videos on my video page.