It's not unusual to see a person with advanced dementia fidget or pick at their blankets or clothes. That picking is like picking lint and it can be compulsive. If it's only clothing or blankets, it's not a problem, but they may also start picking at their skin, which can lead to cuts and sores, which in turn can become infected.
Quilters have been making fidget quilts or activity quilts to help stem this type of behavior. It gives the recipient something to do with his or her hands, without causing damage.
Fidget quilts are simple
Fidget quilts are simple, small quilts that have different activities and textures on them. Some may have a zipper, a Velcro pocket, a big button, and some corduroy, silk and other texture fabric. This allows the recipient to use their fingers to feel the different fabrics and to do the small tasks, like opening and closing the zippers.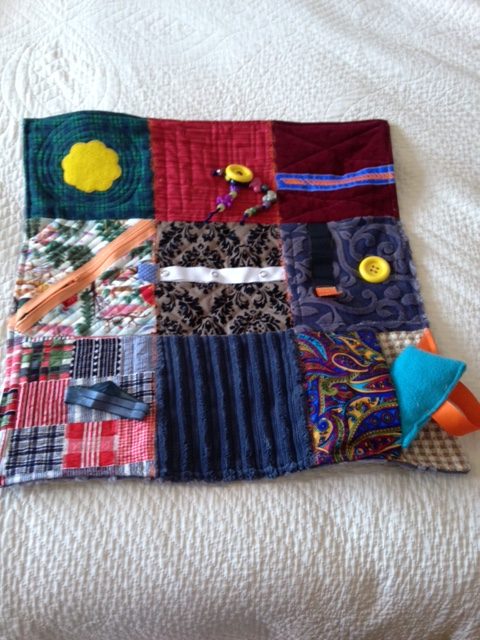 These quilts are very simple to make and what is on them is up to the creator's imagination. If you know the recipient had a special hobby or love, this could be incorporated into the quilt. For example, if the recipient was a dog lover, an applique of a dog, wooly fabric that feels like fur, or even a dog collar or tag could be attached.
I made this one as part of a group project for a quilting guild I belonged to. It was satisfying and fun to make.
If you're making a fidget quilt for recipients in a long-term care facility, check to see if they have rules about what may be on the quilt. Some won't allow attached objects, like buttons, no matter how big they are. They feel that someone may break it off or chew it off, making the object a hazard. In that case, your quilts could still have zippers, Velcro, maybe laces or ribbons, as well as different textures. There's always something you can do with fabric!
For more ideas, check out this Nancy Zieman Productions article.