Just like us as individuals, owners of local businesses are concerned about the COVID-19 (coronavirus) infection. Many of us are cutting back on non-essential activities that take us out of our home. What worries me, aside from the obvious health implications, is how this whole thing will affect all of our local, independent shops. Many of them operate on slim margins to begin with. A drop in sales can be catastrophic. So, what can we, as concerned citizens, do to help out? This may be the time to try online shopping if you've not already.
If you have a favorite local quilt shop (LQS) or business, perhaps you can ask the owner if you can order fabric online. Some do have online stores that you might not be aware of. Others may take special orders if you know what fabrics or notions you need. If you don't have an LQS and shop where and when you can, I'd like to recommend some online shops that I frequent. I can only speak to Canadian outlets, so perhaps American visitors to my blog can add in the comments the online stores they like to use. I have shopped with some US businesses, but not in the past while due to the dollar exchange.
This list isn't exhaustive – there are many places you can buy quilt items online. These are just the ones I use most often and feel comfortable recommending. (The names are hyperlinked, so just hover over them to go to their sites)
Online Quilting Businesses
Bill Locke is here in Montreal and he runs an online quilting business only. The best way to learn about what he has on offer is to follow him on Facebook, where he posts specials and new arrivals. Some of his offerings are limited so you have to act fast if you want a few yards/metres of the gorgeous fabric he stocks. Add to that, his prices are fair and his service is wonderful. Bill ships to the US, and for American visitors, you get more bang for the buck because of the US/Canadian exchange rate. Another plus for Bill: if you're looking for a particular fabric, he will try to help you find it. That is how I got the brick fabric for my Beyond the Brick Wall quilt.
I've ordered fabric and notions from this store based in British Columbia. Nulagh sells pretty well all things quilty plus other things. Service and shipping are quick. I enjoy browsing through what she has to offer and I almost always find what I'm looking for. I like that her mantra is Canadians Supporting Canadians. If you have any questions, Nulagh is responsive and I like that she takes email payments in addition to credit cards.
Dinkydoo is another BC-located quilting business. This store has been in business for 5 years starting as an online shop but she has since opened a brick-and-mortar shop as well. I've bought a good bit of fabric from Dinkydoo, but what I like most is that she has great full roll sales of batting. It can be expensive to put out a few hundred dollars on a batting roll, and of course you need a place to store it. But, and it's a big but, the savings are wonderful. When you think about how much you pay when you buy a batting pack at your local store and compare it to how much you get on the roll, there's no question any more for me. I also buy some bolts of commonly used fabrics, like solid black. Shipping of all items is quick.
You can find Flare Fabrics in Ontario, where the owner started this online only shop in 2009 as a side business while still working full time. She's got lovely fabrics in yardage and precuts, as well as many other items, including bag supplies. The prices are fair and service is quick. Like many online quilt stores, Flare also offers sewing clubs with different types of fabrics.
I know this store isn't a quilting business, but I've bought a large number of items from here when I make my bags and purses. Her selection is wonderful, great prices and wonderful service. She has a very active Facebook page where you can see the creations that use products from the store. If you are interested in bag making, in my opinion, this is the store to go to.
Do you have any store or business you'd like to add? There are a couple of online stores in Canada that I won't recommend, but I won't diss them here either. I will, however, mention my particular experiences if someone recommends a business I've had issues with.
So, one good thing about our art is that we can get what we need without leaving the house. And by supporting online stores like these, we are helping the owners stay afloat during this tough time.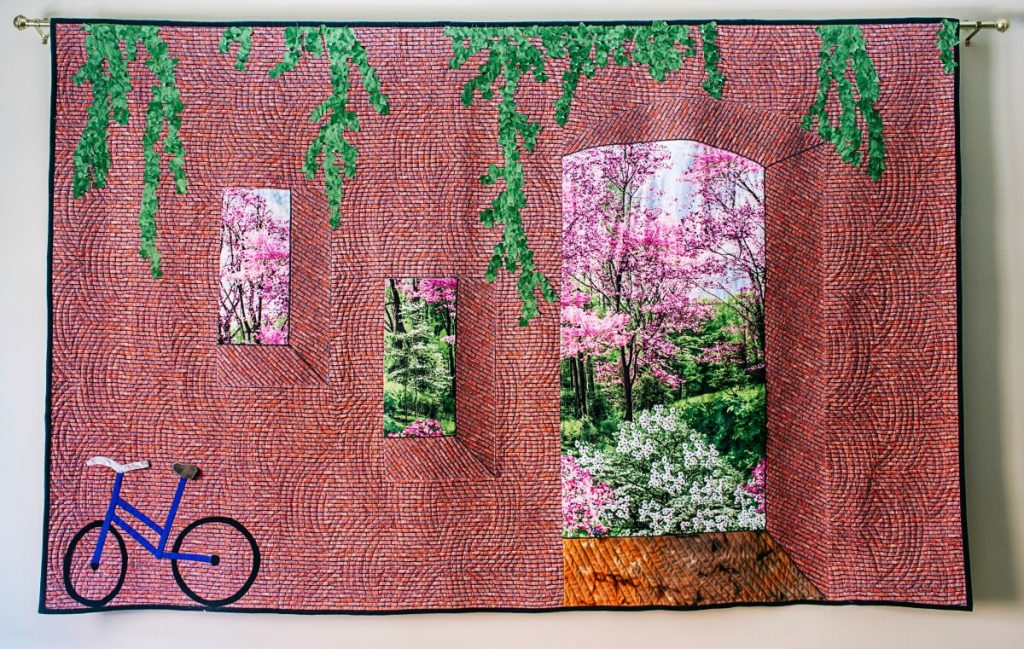 Will Fear of the Coronavirus (COVID-19) Cancel Some Quilt Shows?