I haven't forgotten about the hand quilters among us and here is a How Did I Quilt That for them: Butterflies in Flight.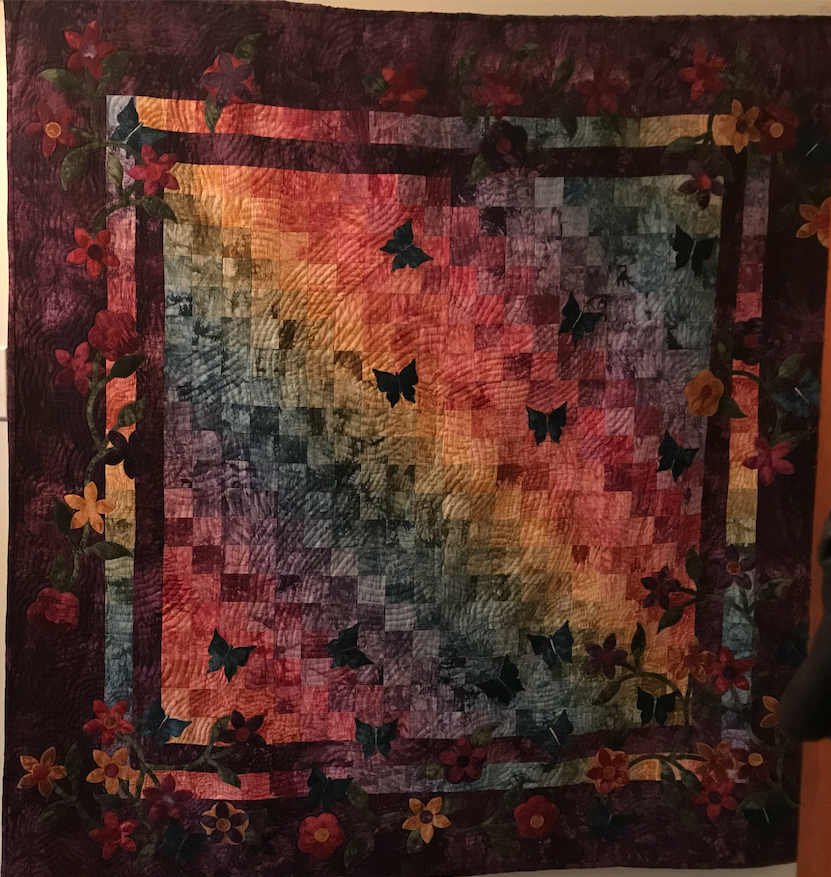 I bought this butterflies kit at the Vermont Quilt Festival several years ago. Kits aren't usually my thing, but the colors called out to me. So it followed me home and I made a few details my own, like the metallic thread on the butterfly bodies.
This one sat unquilted for a while because I wasn't sure how I would do it. The only problem was all the seams, which makes hand quilting a bit tough.
I decided to use a metallic thread in curves to give the illusion of flight. Metallic thread can be tricky to use, both in hand and machine quilting.
With hand quilting, cut an even shorter length of thread than you might usually use. Every time the thread is pulled through the fabric, there is more stress on it. Sometimes, the thread shreds and splits. Some people coat their thread in wax before using it. I've done that but not consistently.
I randomly started lines behind each butterfly, swerving and curving until they looked right.
The edges, around the flowers, were echo quilted.
I changed the name of the design to Butterflies in Flight and it hangs in my hallway. It's the first thing people see when they enter my home.
And that is how I quilted Butterflies in Flight.
Interested in how to choose what you'd like to make for your first quilt? Read my earlier blog post, Choosing Your Fabric and Design.