This was a fun quilt to make and quilt. I found a paper piecing pattern called Wild Winnie. I wasn't wild (pun intended!) about the dusky rose color scheme in the photo I saw, but I imagined how wonderful it would look with multiple colors and that is how I ended up with Spinning Wheels.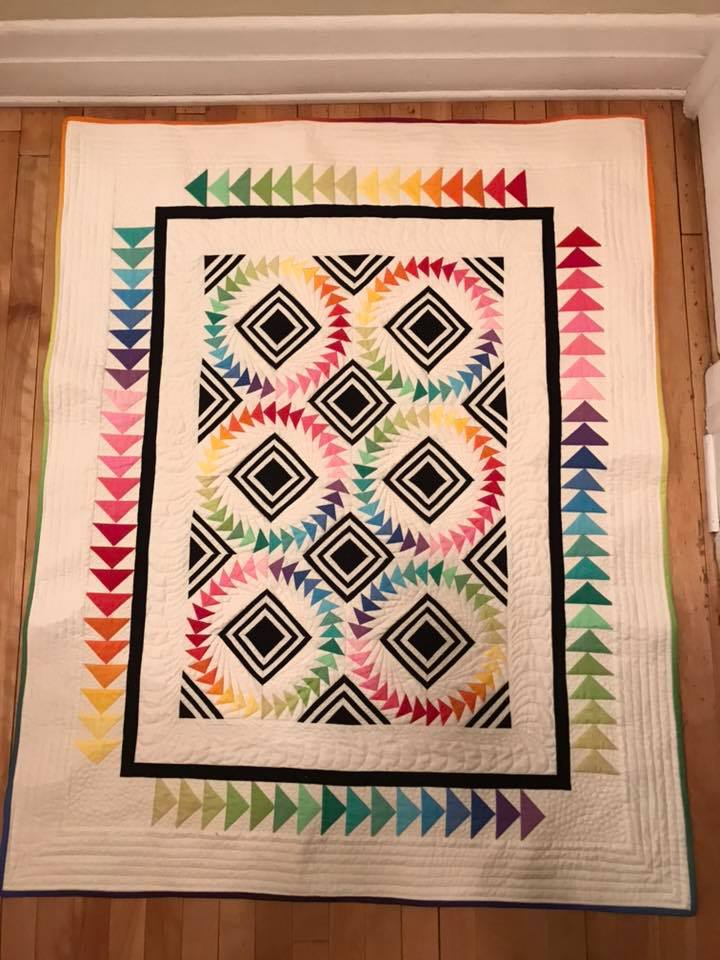 Instead of placing the squares all in the same position, I turned them so the colors were in different spots – giving the spinning illusion. The flying geese in the border was a deliberate choice because I wanted the borders to blend with blocks.
Once I was done, deciding how to quilt it was a challenge. I was too critical of every idea I came up with and then I finally decided to play it by ear.
I started by stitching in the ditch around the triangles in the circles and along the black lines, as well as along the borders and flying geese. I then did bubbles/circles in the white parts between the black stripes.
I followed the bubbles with feathers in the first white border and then more bubbles/circles in the white fabric around the flying geese. I didn't quilt in the black borders to allow them to pop a bit. And then I finished it off with straight lines in the final border.
Usually I like to have more of a plan before starting the quilting process, but this one worked out just fine.
Here is my process in a short video:
Last week, I featured how I hand quilted a large butterfly quilt: How Did I Quilt That: Butterflies in Flight