Part of my Travel and Quilt Shop Series
I had the opportunity to take a quick trip to San Diego, California last month. As usual, I scouted out quilt shops. The only one I could find that I could get to easily was Rosie's Calico Cupboard. I took an Uber over from my hotel to check it out and I'm so glad I did.
First, I think Rosie's store is the biggest quilt store I've been in. Her selection was wonderful. The fabric was displayed not only by color, but by theme too. There was a side room with sale fabrics, where I found some lovely batiks on sale for only $6 a yard.
You name the designer, the fabrics were there. While many were fabrics I can get at home or online from my favorite Canadian sellers, Rosie had several fabrics that I hadn't seen before. And, to make the trip even better, her staff is amazing. So kind and helpful. I couldn't have asked for more.
Buying fabric – a given while I'm in San Diego
As I made the rounds of the store, more than once, I picked up bolts here and there, and eventually had myself a nice pile of fabric. As I was getting it cut, I chatted with the women working there and I learned that I could have the fabric shipped to me. This was a big relief because I was trying to figure out how I was going to get it all in my carry on. So, I arranged for that.
But then…I went back the next day. I couldn't help it. And yes, I did buy more. This time I brought it home with me, but it was a tight fit in that suitcase.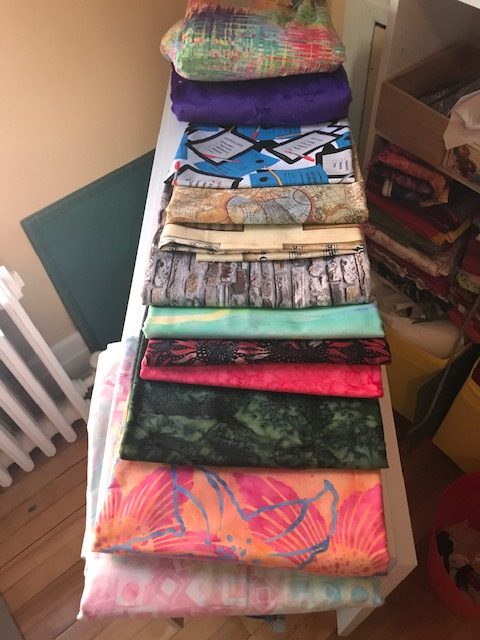 If you find yourself in the area, I recommend you drop in and have a look. It's highly unlikely you will leave empty handed!