There have been many articles over the years about how taking up a craft or art form can help people with their mental health – keeping them on an even keel or helping them heal. I've even written about it myself in this article: The Creative Art of Quilting
The pandemic resulted in a resurgence in making things at home, from baking bread to trying new things. Some people are learning new crafts while others are rekindling their love of a hobby that they set aside long ago. This new or renewed interest can be a solution to boredom, or it can be a conscious effort to keep busy, to feel useful, and to be part of something when we may be feeling left out from our usual life's events.
Not everyone enjoys the creative process and they should never be made feel that they are missing something or are somehow doing something wrong, but I think it's great that if you are interested in trying something new, to go for it and see where it takes you.
Quilting, Learning the Flute, Getting Through Life
I've been steadily quilting along, creating and quilting my own tops and longarm quilting a few quilts for others. I've also started to learn how to play the flute – something that is making my brain work in other ways as I remember how to read music and learn how to make sounds with this lovely instrument.
But, after a year of lockdown/self-isolating, a cancer scare at the start of the year (biopsy was negative, thank goodness), and a bunch of other things, I finally broke down. It was tough – I had been so proud of myself coping so well. Having my sewing room and all the beautiful fabrics and threads around me helped me cope in a much better way now though than when I was younger and life was too challenging. Especially when I'm making things for others, when I know that my creations will make them smile.
Since the pandemic started, I have appreciated how fortunate I am. I have my work, which is always from home; my husband – it turns out we make great office mates as he began working from home too; my wonderful kids, even if I can't be with them; friends near and far, and my quilting. We can never underestimate the power of being able to create beauty amidst chaos and uncertainty.
This is my wish for you and everyone else
If you feel that life is overwhelming or that things feel like they are going out of control, my wish for you is that you can find a few minutes to do something that makes you smile. It doesn't have to be a big thing. It can be doodling on a pad of paper and finding some crayons or colouring pencils in your child's craft drawer to colour in the doodles. Or not. Black and white can be stunning and fun. You could fold a sheet of paper in several sections and cut out a snowflake, like we did when we were children. Or you can observe around you and see what you can find, what catches your eye, what holds your interest.
There is a framed photo hanging in my hall. My youngest son's friend took a picture of my son and a group of their friends standing on the edge of a lake, looking away. You can't really make them out unless you know who they are.
When I first saw the photo a few years ago, I fell in love with it. There was something about how the photo was framed, where the friends were standing on the beach, the movement and colours in the sky and the water, a bike in the grass, the textures on land, everything. At Christmas, when my son asked what I wanted, I told him I wanted a copy of that photo so I could frame it. I smile whenever I look at it. I smile because it's a beautiful, candid shot of friends standing on a beach, looking over the horizon.
Before I Sign Off
Before I sign off, here are some photos of what I've worked on for myself when not working on a friend's quilt, and what I am working on now. I will always be grateful for this wonderful art called quilting.
I started this ivory-on-ivory practice piece just to get back into working on filler stitches. First, I did a graph for the center circle, which I filled using ruler work. Then I did the rest freehand. I ended up putting a facing on it instead of a binding and then I gave it to someone in exchange for a donation to my local food bank. I make so many things I can't keep them all, so if they aren't meant for a specific person, I'll give them away to someone who wants it in exchange for the donation. Win-win x 3. I get to make something, someone gets something, and the food bank benefits too.
This next one doesn't show as well in the photos. It's very vibrant, almost neon with its variegated thread on black. It's another practice piece and when I posted it on a longarm forum calling it that, I unintentionally caused some people to feel that their practicing was awful. So I want to explain why I call it a practice piece.
For sure, it's not a beginner's practice piece, but it is practice. I like to take a piece of fabric and doodle and quilt some stitches and patterns I do well and combine them with those I am learning. That way I'm not frustrated if the ones I'm learning don't go as well as I wanted them to. So I go back and forth between what I already do well and what I am learning.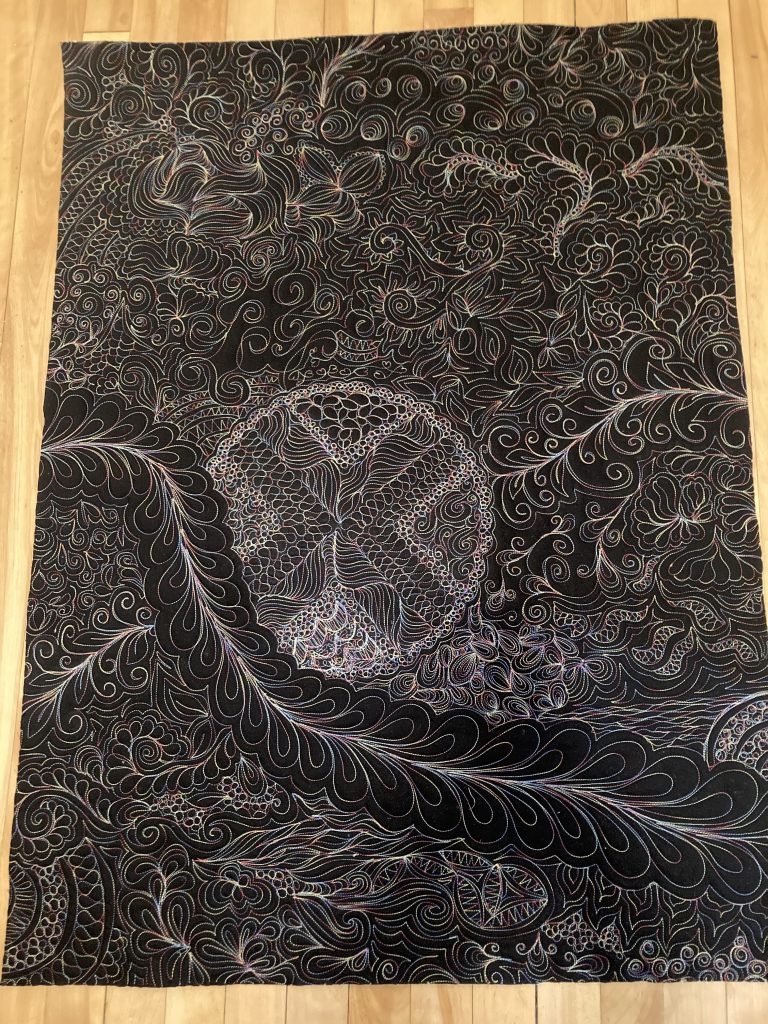 And Piecing
This is a pattern I bought after I got home from a trip to Amsterdam in October 2019. I've been working on it off and on and I pulled it out again earlier this week. I'd say I've gotten most of the outer square of houses done. Still a long way to go though. Slowly but surely. If/when I get frustrated with all the small pieces again, I'll pack it back up and pull it out when I'm ready to do more. There's no rush at all.
Next up? I'm starting (two months late) a BOM from TheQuiltShow.com. It looks very challenging but hey, what else do I have to do, right? It's called Color My World. Stay tuned for that one. I just ordered my fabrics from Spack Craft Fabrics* and as soon as it arrives, sorry Little Amsterdam, you're getting pushed aside for a bit again!
*I am an ambassador for the shop.