Big studios and sewing rooms are eye candy for many of us quilters, who can only dream of having so much room. Reality often dictates that we have a much smaller dedicated sewing space or we have to carve out a good time to use the dining room or kitchen table. Regardless of where you do your cutting and sewing, there are ways you can maximize the space you do have in order to create your lovely quilts.
Cutting table
In my last sewing room, I had a wonderful cutting table. It was a solid piece of wood on two sawhorses, a little lower than waist high. At 50 inches by 30 inches, it was great to work on. I loved it. But, when I moved rooms to accommodate my new longarm machine and frame, I lost the space for my beloved table.
Cutting on a kitchen or dining room table is a good solution for many people, but for me, the lower height of the table causes problems for my back and arms. My kitchen counters are the right height, but there's not a lot of free space and, to be honest, I don't want my fabric anywhere near food and drink. As I scrambled to find a solution, I used a padded cutting board on my ironing board. That was not ideal, but it did the trick for a short time until I found and ordered a portable, adjustable cutting table. It seemed like it would be the perfect solution as I had a good spot in my room to store it when it was folded up. I was happy with the one I bought (Sew Ready Mobile Height Adjustable Hobby and Craft Cutting Table). It was easy to put together and it fit exactly where I wanted it to go.
So if you have limited space to keep your sewing tools out all the time, but you do have space to set up a table temporarily, this could be a good solution for you.
Design board
I quilted for many years without a design wall or board. I would lay out my blocks on the floor or on a bed. And while this works, it's awkward and it doesn't give the opportunity to stand back and really study your design. I like to take photos of my possible designs, and when they're laid out on the floor, it's not easy getting a straight on shot.
There are several sources online on how to make a design wall for your home, but I didn't have the space – or to be honest, the inclination – to put such a wall. But I did have some blank wall space on which I could hang one. I took a dollar store vinyl table cloth and hung it, fleecy side out and tacked it to the wall. The result was an instant and very cheap design wall that didn't take up a lot of space. As I'm still working on maximizing my current sewing space, I've hung my tablecloth/design wall on a closet door.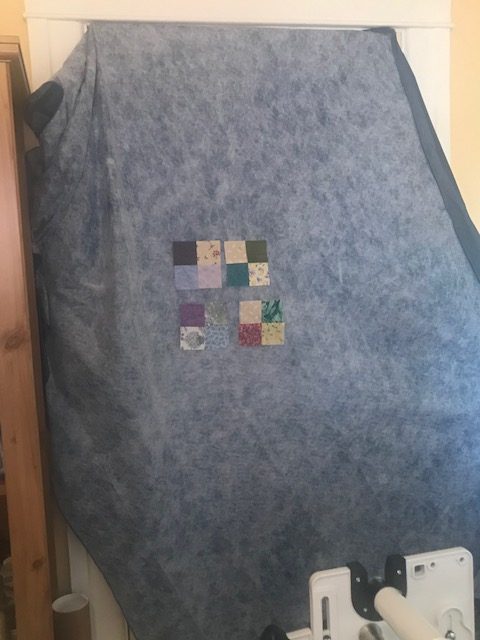 I've read of quilters being even more ingenious. Some install curtain rods on the wall and use that to hang a table cloth and I've seen photos of quilters pinning a table cloth to their living room drapes. I figure, whatever works is good enough. There are also portable design walls you can purchase. They have collapsible braces and legs. I do have one, but it's quite large so I don't take it out a lot.
Fabric and tool storage with limited sewing space
This is a tough problem if you don't have a lot of space. But if you buy large cuts of fabric or you have several tops waiting to be quilted, hangers are your best friend. If you can clear some closet space, you can hang the fabric and tops to keep them out of the way.
Smaller pieces of fabric or scraps you're saving for other quilts can be kept in the over the door shoe organizers. They often have clear pockets, so you can see inside. You can also use these to store your quilting supplies, like rotary cutters, packets of needles, marking tools, and more.
If you have many rulers, most have holes on one end. You could tie a ribbon on the rulers and hang them from a hook, or you can use a large metal ring, similar to a key ring, to keep them all together.
Sewing space
If you don't have a room or corner of a room you can claim as sewing space, have you considered a closet? Seriously, it can work. Some quilters have taken the door off a closet. Their sewing table fits in the closet and with some good lighting, it can make a good sewing nook. You can add some narrow shelves along the wall, in addition to the shelf higher up, which most closets have.
It can be challenging to have a good sewing set-up if you're tight for space, but with some creativity, you can make it work.