I bought the fabric in Mosaic Windows several years ago while we were visiting Taos, NM. The bold colors and design grabbed me, but I never knew what to do with it. Finally, an idea came to mind and I designed Mosaic Windows. How did I make the quilting decisions though? It came bit by bit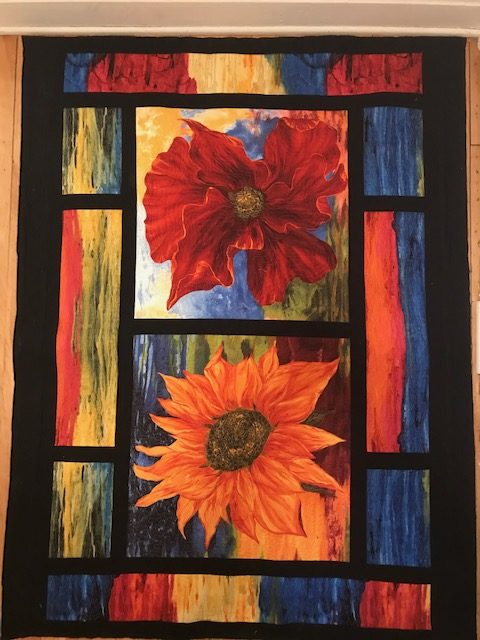 I used my longarm machine, so I started from the top. When you're machine quilting or hand quilting, you generally start in the middle and work outwards. I decided that the black sashings and borders would be done with swirls.
The border blocks looked like they had a linear design in the print, so I chose to do a harsh meandering of sorts, starting with the top border block. I used a meander style but rather than curves and rounding the edges, I zigzagged with long and short lines. Once that was done and the first of the side blocks, I began on the flowers.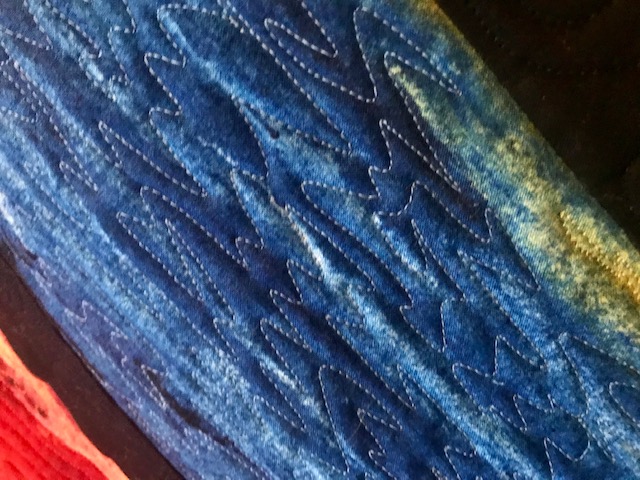 The red flower was a bit of a puzzle for me. I didn't want to do lines inside, because I knew I was going to do that for the sunflower. After much reflection, I chose to do internal echoing to make it look like the petals were bending and flowing. The sunflower was next and I did lines coming from the center outward. Both flower centers were quilted with pebbles.
Then I finished the border blocks and bottom. Finished!
I have another panel from this designer. The colors and flowers are different, so I'll be making a second Mosaic Window quilt sometime soon. I'll have the chance to come up with another quilting design.
If you're more visual and would like to see the quilt areas pointed out, this short video explains the process behind Mosaic Windows:
And you can see more quilting videos on my video page.