I got it done with one week to go! I've been busy the past couple of weeks so I began to worry that I might not get to the February block of the month section for the Garden Party Down Under. Of course, it's not the end of the world if I don't get them done every month, but I know myself all too well. If I fall behind, I may stop working on it. If you haven't seen the initial Garden Party Down Under blog post, you can find it here.
So, here we go. This month consisted of making two borders to go around the center block I made last month.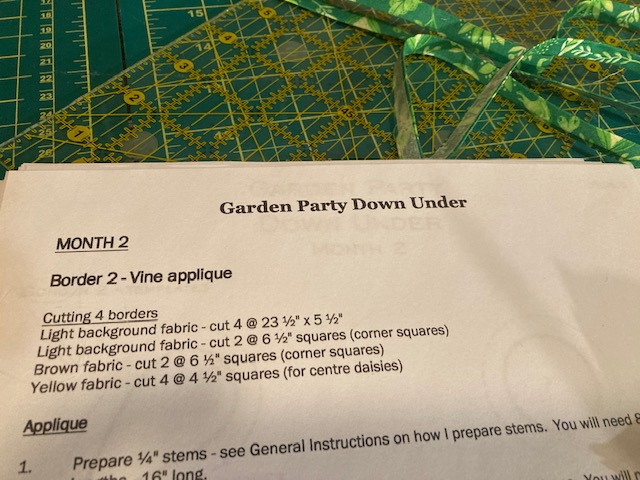 Inner Border
I cut the inner border lengths and prepared them for the appliques. Some people use pencil to mark placement. I like to use the water soluble marker, in case I miss the mark. It's easier for me to remove the marking.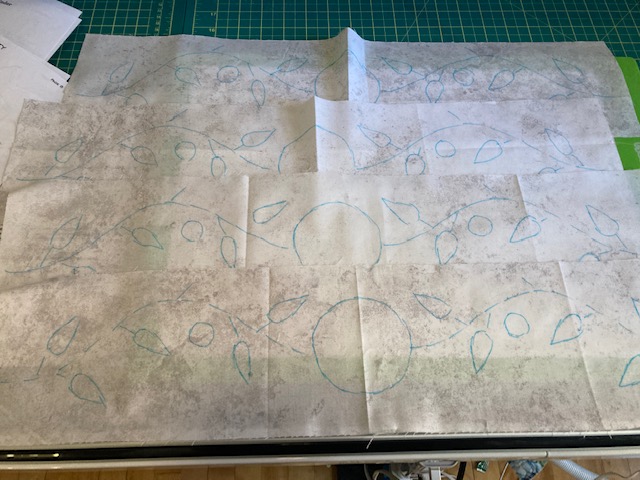 My lightbox has made applique so much easier. I used to either tape things to the window and trace, but this only worked during the day. I also have a glass kitchen table, so sometimes I would put a lamp beneath it and use that, but this light table is so much easier to use.
Again, as with last month, I chose not to cut each petal individually, but I traced the flower off the pattern and cut the whole thing out at once. It's much faster.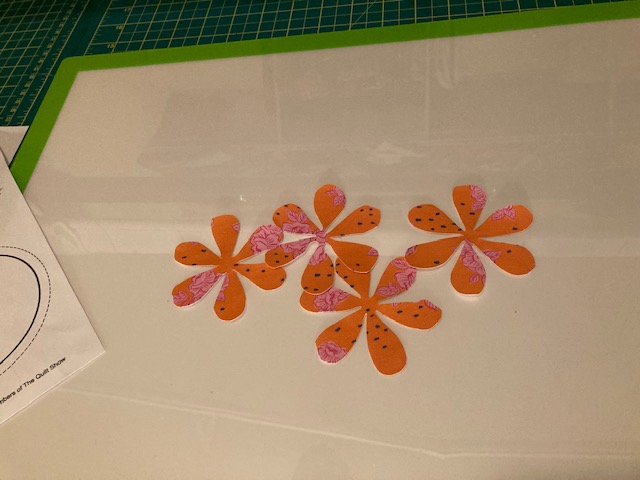 So you can see here that I added the inner border.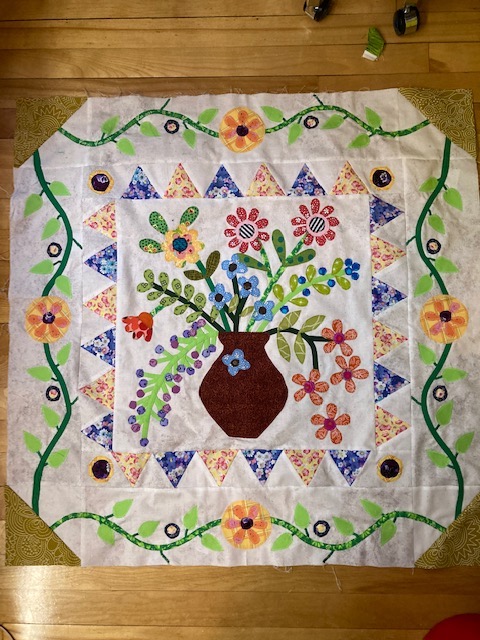 It's only after I added the outer one that I noticed a mistake. See if you can find it here – I'll show you a bit further down.
Outer Border
Now to make the dogtooth border. Again, as last month, I chose to use Barbara Black's approach of paper piecing the border rather than applique. Last month, I decided I didn't want my dogtooth border to be too scrappy, and I alternated the two fabrics. I did the same with this border. The problem though, was that the kit didn't have enough of two fabrics for the triangles, so I pulled these two fabrics out of my stash. They match the vase fabric (also from my stash), which I'll be using for all of the vases. So it will all come together a bit.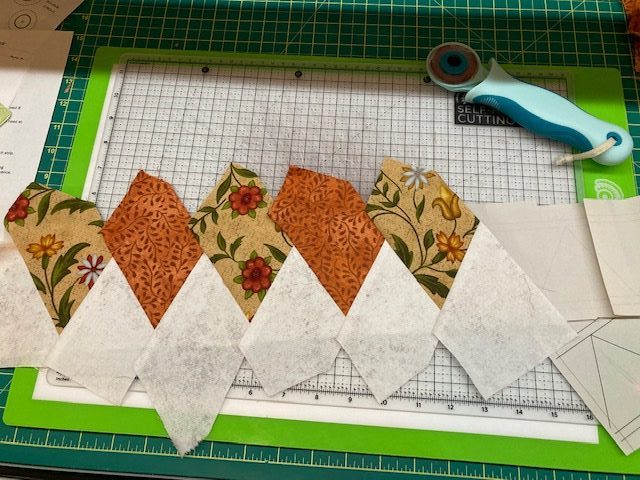 The Mistakes
So, did you find the mistakes? I usually tell people not to point out their errors – we all make them. There were several smaller mistakes that I didn't bother with, but these two are worth sharing so you can see how easy it is to make such mistakes and why I chose not to correct them.
If you look closely (or maybe not so closely if you saw it) – I put the side inner borders on upside down. The wayward petal should be up into the outer dogtooth border. I somehow ended up putting them into the inner dogtooth border on the sides. But – since I did it the same on both sides, I decided to leave them as is. At the end, if anyone notices, it's not a big deal.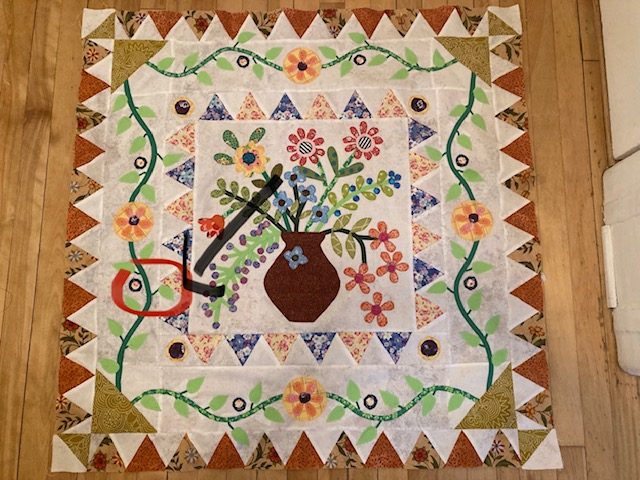 The other mistake, I blame partially on the pattern. If you look carefully at the pattern photo, the one that comes with the pattern, you can see that there are leaves added in the corner, above the triangle.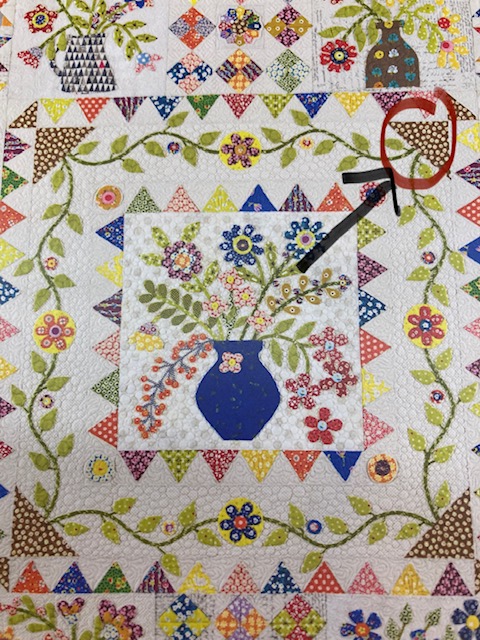 Instructions to add these leaves were not in the pattern itself. I never noticed them until I read Barbara Black's blog post where she pointed it out. Since I'd already sewn it pretty much all together at that point, I decided just to stitch the leaves on and not bother about satin stitching a small stem as I did for all the other leaves.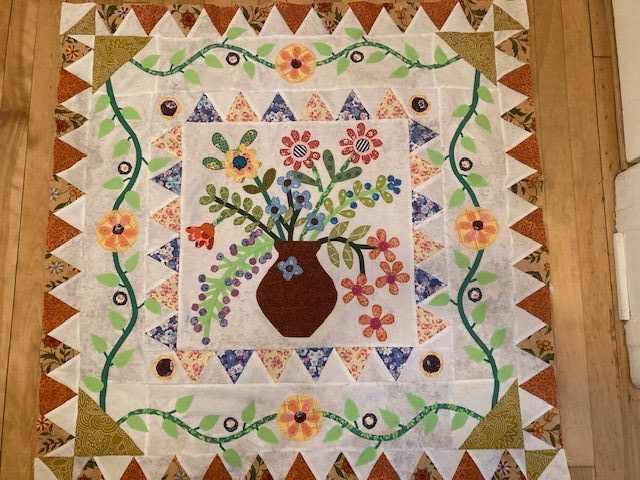 Am I happy with that? Not really. I don't like how it looks. But I also figure that the quilt is busy enough that by the time it's all finished, it's not going to be that obvious. I'll see it – but I don't think it will stand out.
So, that's the second part of this block of the month. Stay tuned for March!