It's January in Montreal, which means it's cold. Add to that Quebec's pandemic restrictions, and there's not much left to do other than chores, work, or fun things like binge-watching a series, reading, or quilt. I chose to sew together some quilt tops.
A friend dropped off a box of fabrics last week, for me to use for these quilts, so I designed four very different quilt tops. Three are finished, the fourth's blocks are just about finished and just need to be sewn together.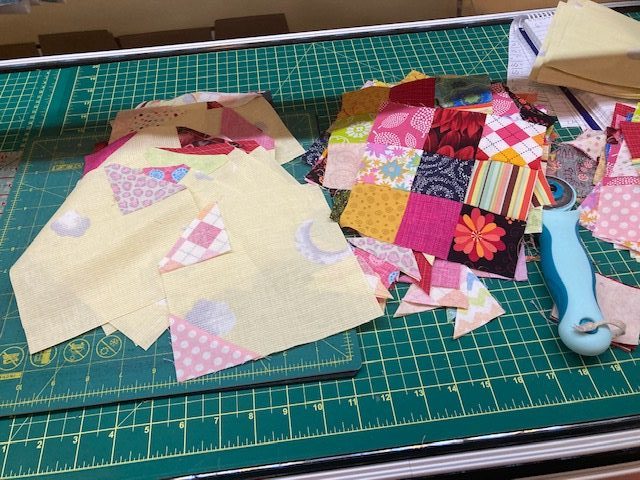 Except for the Shadow Box quilt, the others are scrappy and I have a hard time with scrap quilts. I like symmetry, and I want to plan how I place things. Making a scrappy quilt goes against all that. It makes me pick pieces at random. Some people may find that odd, but the scraps' randomness stresses me sometimes. Most of the time, I can do it, but other times I have to cheat and replace a piece that just didn't look right to my eye.
Shadow Box
This is my favourite fast quilt if you have a focus fabric you want to show off. It's very simple. In the video in my previous post, I showed the start of it with an error (I forgot one of the little white squares at the bottom of each focus block) and I said I was going to leave it. I couldn't. I had sewn most of the top together but it just bugged me too much so I took it apart and fixed it. I'm glad it did.
If you want to make a Shadow Box quilt, there are many tutorials online – just Google it, and you'll find them. I made this top with narrow rectangles, but I've also made it with wider ones and squares. It all depends on the fabric.
Scrappy Twist
Now, this quilt is a bit different. I adapted the idea this quilter showed in her video. I'm calling it Scrappy Twist for now. I liked it until I saw the photo and I saw that I wasn't thrilled with how I placed two of the blocks. Oh well, too late now – this one I am NOT redoing!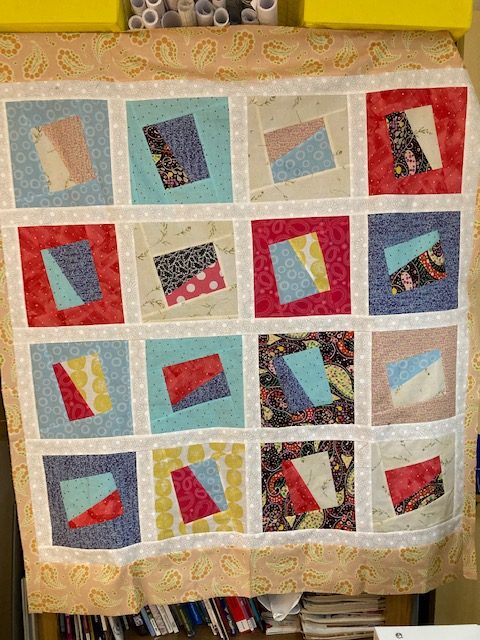 It was a fun quilt to do. The video shows a more intricate block but I like my simplified one. I will probably make this one again.
9-Patch Exploding Quilt
This interesting quilt is really an exploding 9-patch, but just one really big one. It was SO fast to put together. I'm not sure if I like it, but it is a good way to show off some fabrics you don't want to cut into smaller pieces.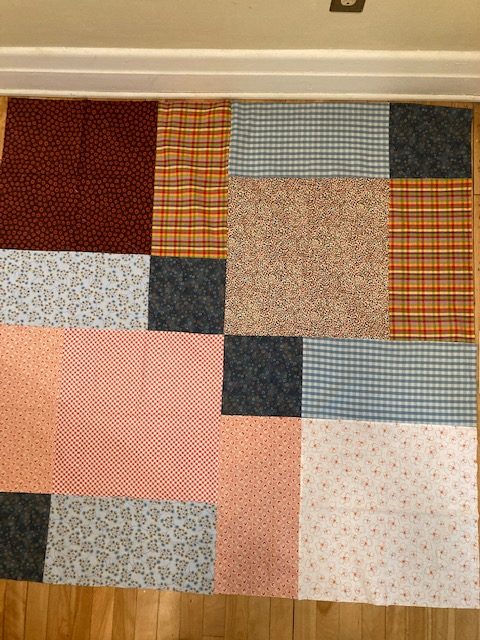 I still have a good bit of fabric left from this box, but I will mix them with other fabrics that I received from my quilt guild to make even more scrappy quilts.
Do you have any favourite scrappy quilt patterns?