It's time for another How Did I Quilt That post and video!
A friend asked me to make some magic with a Gustov Klimt painting panel. Challenge on! It took a while for us to coordinate so I could make sure we were on the same page, but I finally got to work on it last month.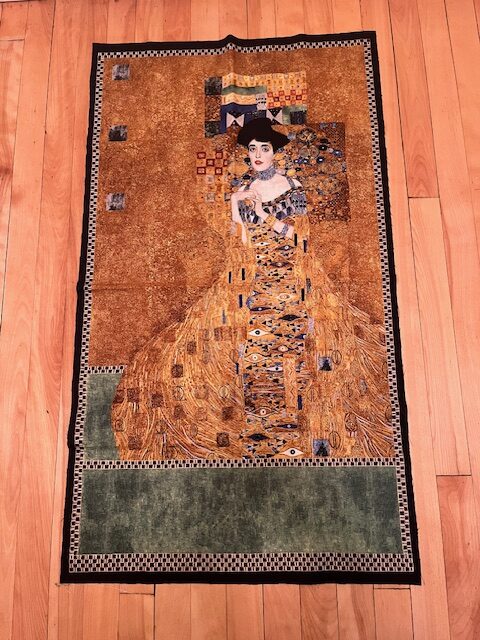 First, I had to design the borders. I looked online for ideas but nothing really came to mind. I didn't want to do a typical border. Finally, I took a ruler and my pencil and came up with this. I know it's not original. I must have seen it somewhere on someone else's quilt, so if it was your idea, please let me know and I'll give you credit. I didn't have anything in mind, but the hint of an idea and this is what took shape. It took a LOT of arithmetic and reconfiguring to get the widths and lengths correct, but it worked out in the end. Just one or two seams needed to be, um, repositioned?
Now, the fabrics
The first step was choosing the coordinating fabrics. Only *after* I was finished did I learn that there were coordinating fabrics by the manufacturer. Oh well! I ended up choosing some lovely batiks that really pulled the color out of the panel. You can see them better in the video below.
For the first border, I chose this gold-toned batik that had shades of the colors in the dress and background.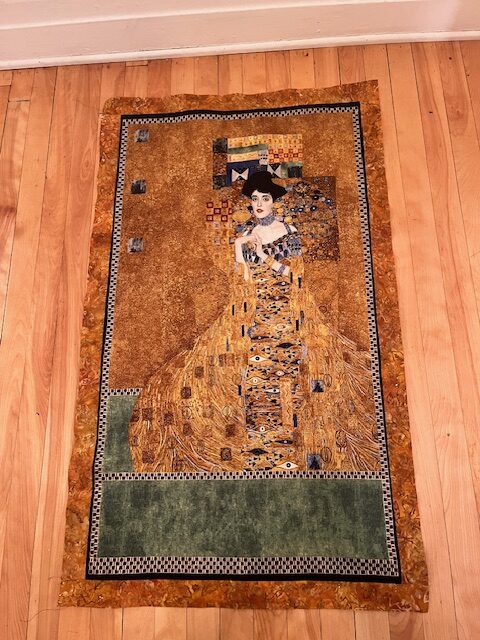 Next was the blue. I didn't want a solid blue, but one with variety, and this blue seemed to fit the bill.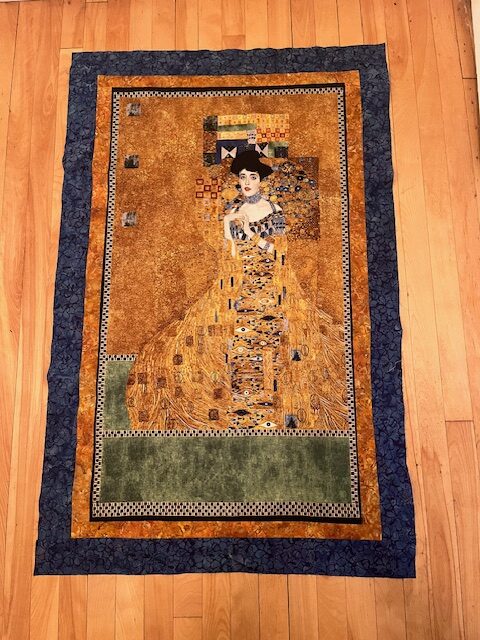 Next was a thin stripe of black. It only went down the side and was there to break up the colors.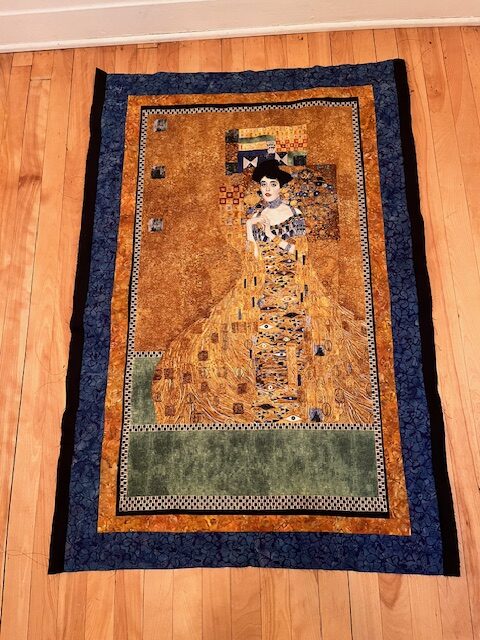 Green followed, and because there was a good amount of green in the panel, I needed to be sure it was a good match. It is!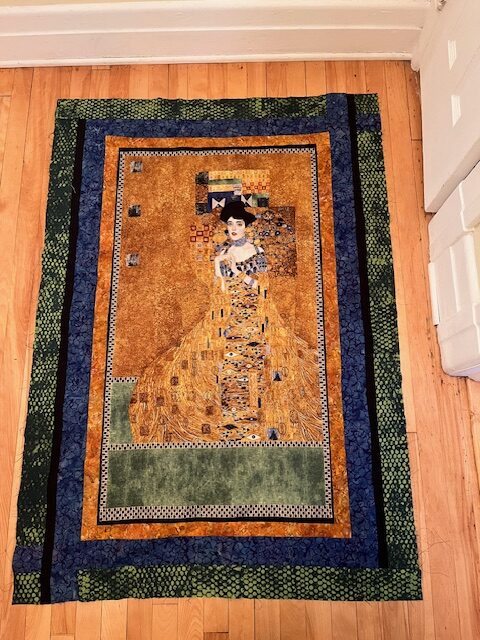 And finally, I bought the outermost border fabric, a lovely gold, with gold flecks. To me, it finished the piece.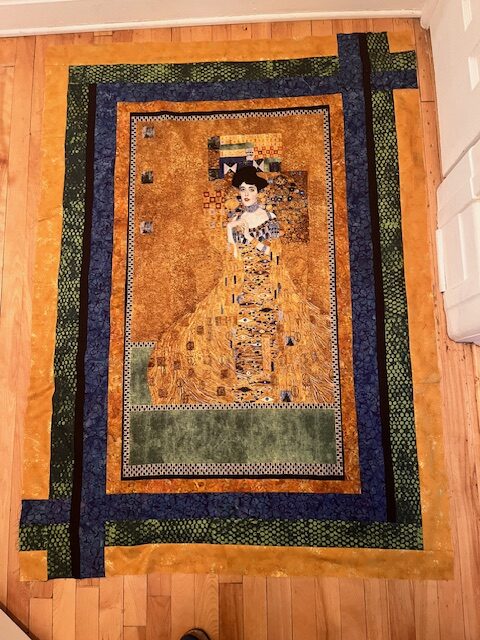 Oh – the backing. What to do for the backing. Well, I had two that I really liked, but they weren't wide enough and I didn't want to piece the backing. Then I found this lovely fabric that looked like a gold woodgrain. It worked (I think).
Ok, now to sewing it together. Well, it was a bit tricky. My sewing machine died. It's a long story but I bought a second-hand Pfaff Creative 3.0 18 months ago and I got ripped off. I bought it from a store but it was "as is." My mistake was trusting them. I won't make that mistake again!
Luckily, I have Clementine. She is a Singer Featherweight that was born in 1949. You know what, it actually seemed fitting that an old machine sewed together a quilt that included art from 1907. Anyway, Clementine is a trooper and she sewed everything together like a charm.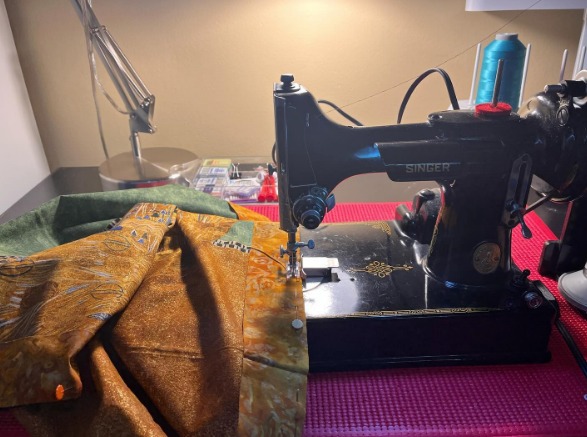 And then it was ready for the quilting frame.
I was lucky to have some great color matches with the thread – almost too great. The gold thread matched the gold background perfectly, which made the quilting very difficult. I couldn't see the stitches of previous lines. I tried quilting in the dark with just a small lamp – that didn't work. I balanced my iPhone on its side with the flashlight aimed at the sewing foot. No luck. So I just had to go very slowly and by touch, hoping I wouldn't go over previously quilted spots – or my finger.
After the stitching, I loved the results and put the binding on. But something was missing. The quilt didn't seem complete. After a bit, I realized I wanted to add beads and wouldn't you know it, I had exactly the right colors. So, a few TV shows later (well, more than a few), we had a competed project: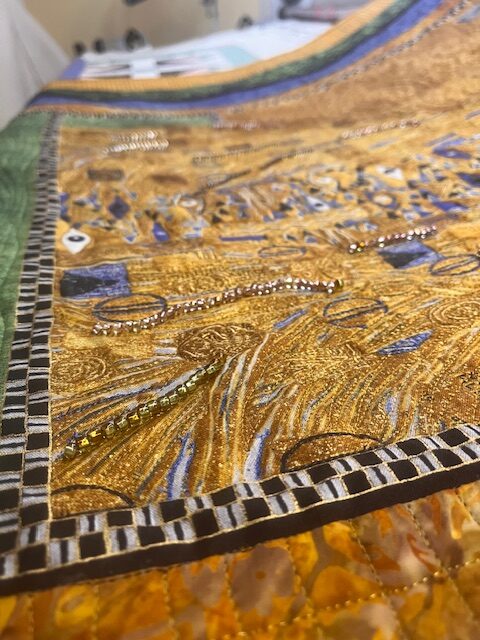 Below is a video that I added to my How Did I Quilt That gallery. Let me know what you think.